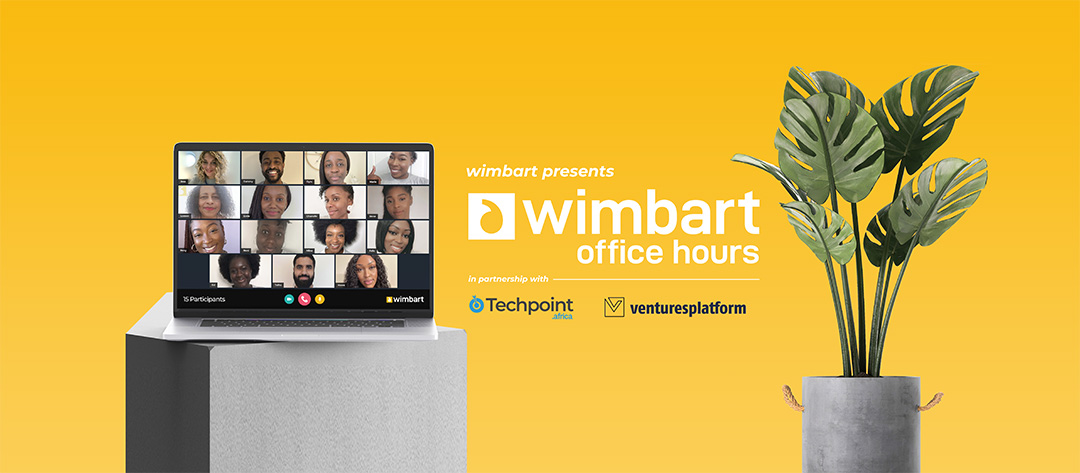 Wimbart Office Hours Third Edition Launches
London,UK – 25 June 2021 – Wimbart is re-launching its third edition of the Wimbart Office Hours Programme 2021. Office Hours is a PR mentorship programme designed to equip early stage Pan-African start-ups with PR and communications insight and expertise to frame the narrative surrounding their business from the beginning. After a successful two editions, for the third time running, Office Hours will be in partnership with Ventures Platform and Techpoint Africa. Senior members of the Wimbart team will share guidance and tools on a range of topics from developing a successful communications plan to building relationships with journalists, communicating for investment and how to amplify press coverage. Applications are now open.
First launched in March 2020, Wimbart Office Hours alumni from previous cohorts one and two include: Afriktrip, Nguvu Health, Vybe, Crop2Cash, Ecodudu and Wellahealth who have been able to develop better strategy and a stronger understanding of PR for their start-up since participating in the programme. The team behind the Wimbart Office Hours programme will work with cohort three to build a broader understanding of how PR and communications should be an integral part of the planning and growth of early-stage tech start-ups. Helping them to realise their vision as they scale.
Dates are set to kick off from 3rd August 2021, three virtual webinars will be led by Jessica Hope, Founder of Wimbart, who will be joined by Kola Aina, Founder & General Partner of Ventures Platform, and Múyìwá Mátùlúkò, CEO of Techpoint Africa. These webinars will focus on different topics such as: how to connect with and engage with investors and how to communicate effectively with journalists and key stakeholders. These will be supported by one-one-one sessions with senior members of the Wimbart team.
Speaking on the launch of the third edition of Wimbart Office Hours, founder and CEO, Jessica Hope says, "It has been a challenging period for technology start-ups and we see that now, more than ever, honing and refining strong communications skills and weaving PR into marketing activities, whether it is for growing customer base or connecting with investors, is more crucial than ever when building and scaling a business on the continent".
20 start-ups will be selected by the Wimbart team to participate in the free programme. For start-up's interested in applying, more information about how to apply can be found here. Applications will close on Monday 12 July, 12pm (BST). Successful applicants will be notified by Tuesday 20th July.
#WimbartOfficeHours