Wimbart Office Hours #2
We're hanging up our boots for #WimbartOfficeHours 2020 – See you next year!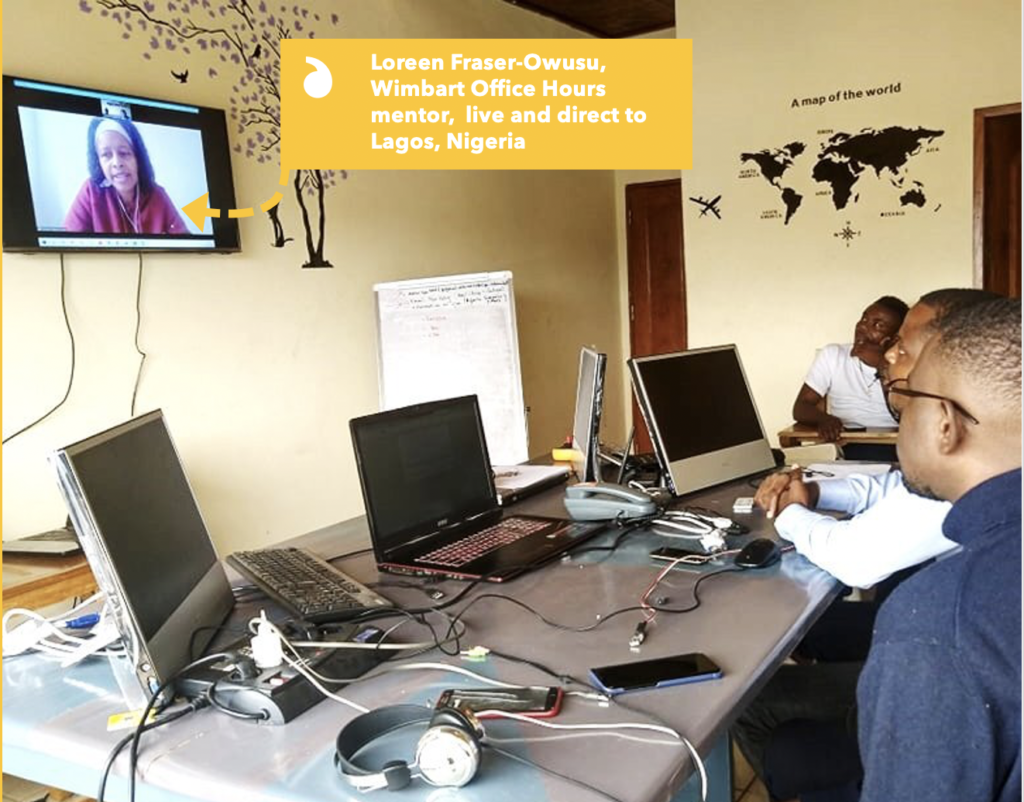 For some time, we have had a grand vision to offer PR support to early stage startups on the continent. And by some time, we mean years. But things always got in the way… however, 2020 – we were determined to make this support "concept" into a reality.
Our dream, as a team, was to see African startups thrive within and outside of Africa, and believe it or not PR is a key driving force for this growth. Our hope was for these companies to end the programme equipped with the PR knowledge to better position themselves to meet their business goals, whether for investment or customer acquisition. 
Our very first Wimbart Office Hours ended in July, and was very successful, even in the midst of a pandemic. Some of the startups got featured in international news outlets like Reuters, re-evaluated their social media content strategies, and even developed new websites, all from the advice they received from Wimbart's mentors. It was so good, we decided to launch another one in the same month, just as the first one ended. The second iteration was by all intents and purposes bigger and better. We received a whopping 128 applications from a range of startups, from fintech and legaltech to e-commerce and healthtech, from across different countries in Africa, and 30 brilliant startups were chosen for the programme. 

The Wimbart Office Hours programme is about mentorship, and conveying the importance of embedding the discipline of communications into early-stage business planning. Whilst we believe that PR is a crucial tool for start-ups, we also know that communicating with media houses as well as investors is also critical, so for round two, we welcomed strategic partners who are very well versed in this space – Ventures Platform and Techpoint Africa – to work alongside our 7 in-house mentors.

The startups took part in an exclusive introductory webinar and Q&A with Jessica Hope, three 45 minute one-on-one PR mentoring sessions with senior Wimbart PR professionals, and two 30 minute group business mentoring sessions with subject matter experts provided by Ventures Platform. For the Ventures Platform session, Kola Aina gave an impromptu call for one of the cohort to pitch there and then. Shout out to the start-up founder who braved it – boss, you did a fine job, presenting to one of the continent's most prolific investors, at short notice. Hustle levels x1000 [that's the Wimbart way…]
Since joining the Wimbart Office Hours programme, startups from this cohort secured features in top tier international and pan-African media outlets like Forbes, Techcrunch, BBC and Techpoint. Apart from getting published, our mentors provided a lot of actionable advice which some founders implemented straightaway. Some even took part in activities such as newsjacking and thought leadership article placements in key news platforms, which created awareness for their business and improved their social media following and engagement.
The startups from the second cohort have now joined those from the first cohort in the Wimbart Office Hours Alumni Network, where both cohorts can share opportunities and lessons learned, in addition to connecting and hopefully collaborating on future projects. We have already seen some great media opportunities birthed in this space and we are looking forward to many more wins. We also really hope that our start-ups will build their own community and collaborate with one another. Tech in Africa is by no means a one horse race. 
After two successful Wimbart Office Hours sessions, it is now time to hang up our boots for the year. To all who made it possible – from the entire team, to the partners, the startups, those who shared the applications and to everyone rooting for us – we say a huge thank you. It really does take a village. As usual we have learned a great deal from this cohort and we are looking forward to implementing what we have learnt when we restart the sessions next year. This is not goodbye, but see you later!