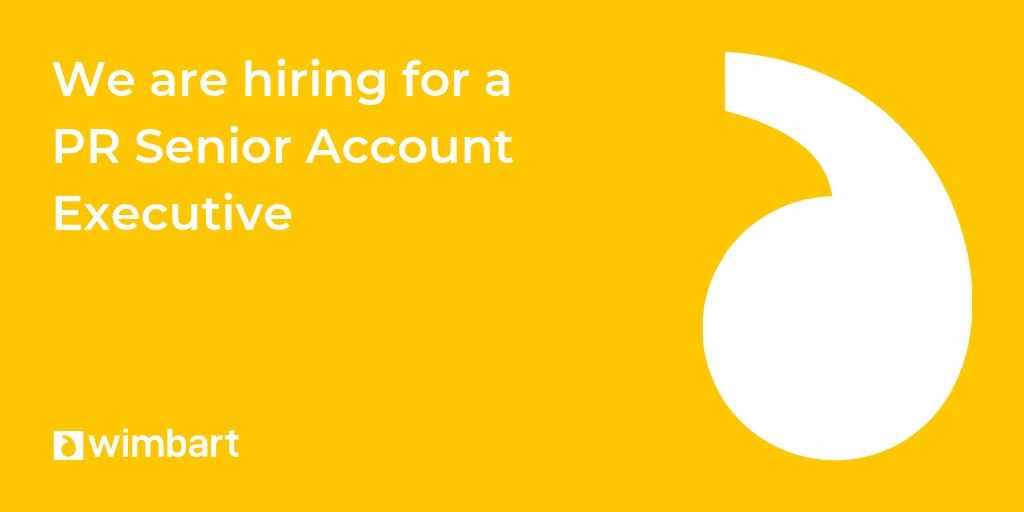 Wimbart is Hiring for a PR Senior Account Executive
Who are we?
Wimbart is a boutique public relations company with a heavy emphasis on Africa & emerging markets. We produce hyper-targeted, relevant & meaningful media campaigns for a range of international clients.

This is an exciting time for our agency. Our MD was recently listed in PR Week's Powerbook, we have moved into beautiful new offices in Southwark, we are experiencing considerable growth and have secured a number of new accounts. We are now looking to build out our team with a highly-motivated, dynamic and experienced PR professional.
We work across technology, start-ups, entertainment, social enterprises, entrepreneurs and consumer products, to deliver memorable press campaigns. Our capabilities stretch far beyond traditional public relations agencies; we write beautiful copy, build brands and break big news stories. Why are we different? We don't cut corners, we don't stop until we achieve excellence, we don't just send out pointless mass-mail shots and hope for the best. Instead, we curate our clients' story and engage with journalists and commentators who we've spent years building relationships with, to deliver credible, powerful media presence for them.
Purpose of the Role:
Deliver visibility, provide strategic support and consultancy for Wimbart clients across the tech, start-up and entrepreneurial space, predominantly in Africa.

The Ideal Candidate:
For this role, we are looking for a storyteller – someone who can consume and then condense detailed information and package it in a way that will engage international journalists and stakeholders.

A can-do, savvy and proactive PR Senior Account Executive who has solid experience in pitching and securing widespread media coverage in predominantly business and tech outlets, primarily across Africa, but also in the US, UK and Europe, ideally.

Someone who thrives in a busy and self-starter environment, is motivated to work with a small, but fast-growing team, who has a strong sense of social purpose, and is accustomed to delivering impactful media coverage across different markets.

Someone who is confident with clients, providing timely counsel to them on a range of issues outside of the normal PR and communications activities.

Someone who has experience of managing small teams, and who will mentor and help Wimbart's Account Executives as they grow in their roles.

Key Activities:
To support the Managing Director and Account Management team in managing Wimbart clients
Craft press releases, news stories, articles, case studies, media briefings and any other written materials for both clients and Wimbart – strong business writing skills is an absolute must for this role
Coordinate Account Executives and their work-flow, as well as assisting in their continuous professional development
Pitch press releases and feature ideas by email or telephone to national, regional and trade journalists, across print, broadcast and online
Develop a network of media contacts in key target media and service the relationships by providing excellent service
Respond to phone calls and emails from journalists and arrange interviews and editorial meetings with key journalists for clients' spokespeople – in person or over the phone – and facilitate these meetings where appropriate
Keep up-to-date with industry events that are of interest to both clients and Wimbart
Occasional events support
Brainstorm fresh ideas for PR campaigns with the team
Continuously monitor key media outlets – online and some print – that feature Wimbart's core sectors and keep abreast of the wider news cycle for Africa / tech / entertainment
General team support across all aspects of the company's activity
Skills & Knowledge:
First-class writing skills
Expert news judgement – can spot a news opportunity
Strong ability to 'pitch' successfully on the phone and by email
Social media savvy- with experience of repackaging messaging across different platforms.
Knowledge of key PR tools and databases used in the market
Strong ability to learn quickly across diverse topics
Ideal Experience:
Demonstrable track record of securing media coverage in influential regional and global titles
Experience of and interest in Africa, business and tech a bonus.
Client handling and relationship building skills
A creative communicator, with a track record in engaging storytelling
Ability to influence through effective communication
Good writing and proofreading skills
Attention to detail and accuracy
Ability to work flexibly and prioritise workload
Proficiency in using Google Drive, Microsoft PPT and Spreadsheets a bonus
Demonstrable track record of exceeding goals, and meeting deadlines
Enjoys working hard; a complete self-starter with almost unlimited initiative, good at working as part of team as well as on their own
A warm and friendly individual with the ability to build honest, long-lasting relationships in a supportive, fun a dynamic environment
Please send CV and Covering letter to jessica@wimbart.com