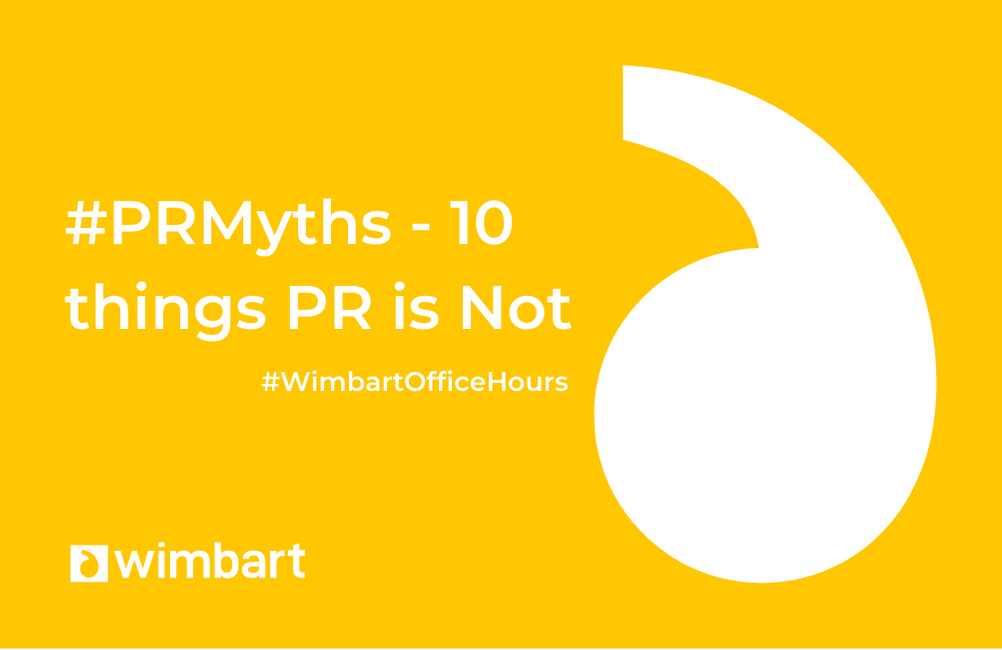 #PR MYTHS – 10 Things PR is not!
"PR can be used to protect, enhance or build reputations through the media, social media, or self-produced communications."
Let's separate the facts from the fiction and dive in.

1. PR is easy, I can do my own PR!
Nope it's not… an effective PR team develops strategies and key messages for clients through communication, generating ideas, and smart targeting, and these are just the basics of growing your reach. The best communications strategies are created by a dedicated team of specialists.
2. PR is just writing press releases
Who told you that? PR teams are full of different types and levels of expertise, including everything from crisis and reputation management, to social media, content marketing to media relations, as well as other tactics that will help elevate your brand and expand your visibility.

3. PR is advertising
PR is not advertising, let us explain. Yes, both PR and advertising help build brands and communicate with target audiences. The difference between them is that advertising space is paid for while public relations focuses on results that are earned through providing the media with information in the form of press releases, article ideas and insightful interviews with business leaders.
4. PR and Journalism are the same
Nope! It is true that PRs can write but journalists would be outraged if you said we were the same! Our functions are different from each other but mutually beneficial which helps things run smoothly. The PR team share stories with target media which is of interest to their audience and helps journalists have a bank of content. PR also ensures that the information the journalist receives is accurate! We are different sides of the same coin and important to each other's role
5. PR – all press is good press
Technically this isn't true. Firstly, you have to have a strong story which is told well, whether positive or negative. Secondly, you have to build a strong and long-standing  relationship with the media so that that story can be managed in the right way. Achieving a positive reputation with the right audience and press coverage in relevant publications is the result of telling your story in a powerful way that resonates with the readers. And no, you cannot have my journalist contact details. 
6. PR is only needed when things go wrong
What about the good times? The media world has changed and you can't just rely on PR when things go left! Thought leadership, timely comments, and social media are just some of the ways that businesses ensure they are at the forefront of their industry and can reach the public with different types of news, especially when it's good.
7. PR professionals only talk to the media
We love socialising and having great relationships is key, but we do way more than that! We build strong relationships with the media, keep them informed of potentially big news or events, and we pitch articles with strong themes to gain far reaching positive coverage. We are trusted with the task of growing, guiding and managing the identity of brands and companies to help the world understand exactly what they do.
8. PR companies just do what they're told.
Actually, we do way more than that. Our role as PR professionals is to advise clients on what is newsworthy and when the best time to issue a story is. We counsel our clients on best practice when it comes to media relations, working together to create brand awareness, and build strong reputations to create success. We're an extension of your internal marketing and communications team, adding our expertise to yours.
9. PR is only for celebs and public figures
False! Anyone who is trying to increase their brand visibility and credibility needs PR, whether they're a business, a politician or a celebrity. We work as hard as we play, investing a lot of time in understanding our client's business and brand, brainstorming new and creative campaign ideas and finding ways to achieve big wins for our clients.
10. PR is Magic
It's actually more like a science. There's no magic pill you can take. PR is about planning, growth strategy and calculated execution.
If you are an Africa focused, tech enabled start-up, it is never too early to build a killer communications strategy. The Wimbart Office Hours programme will give you all the tools you need to make it happen.

Apply now