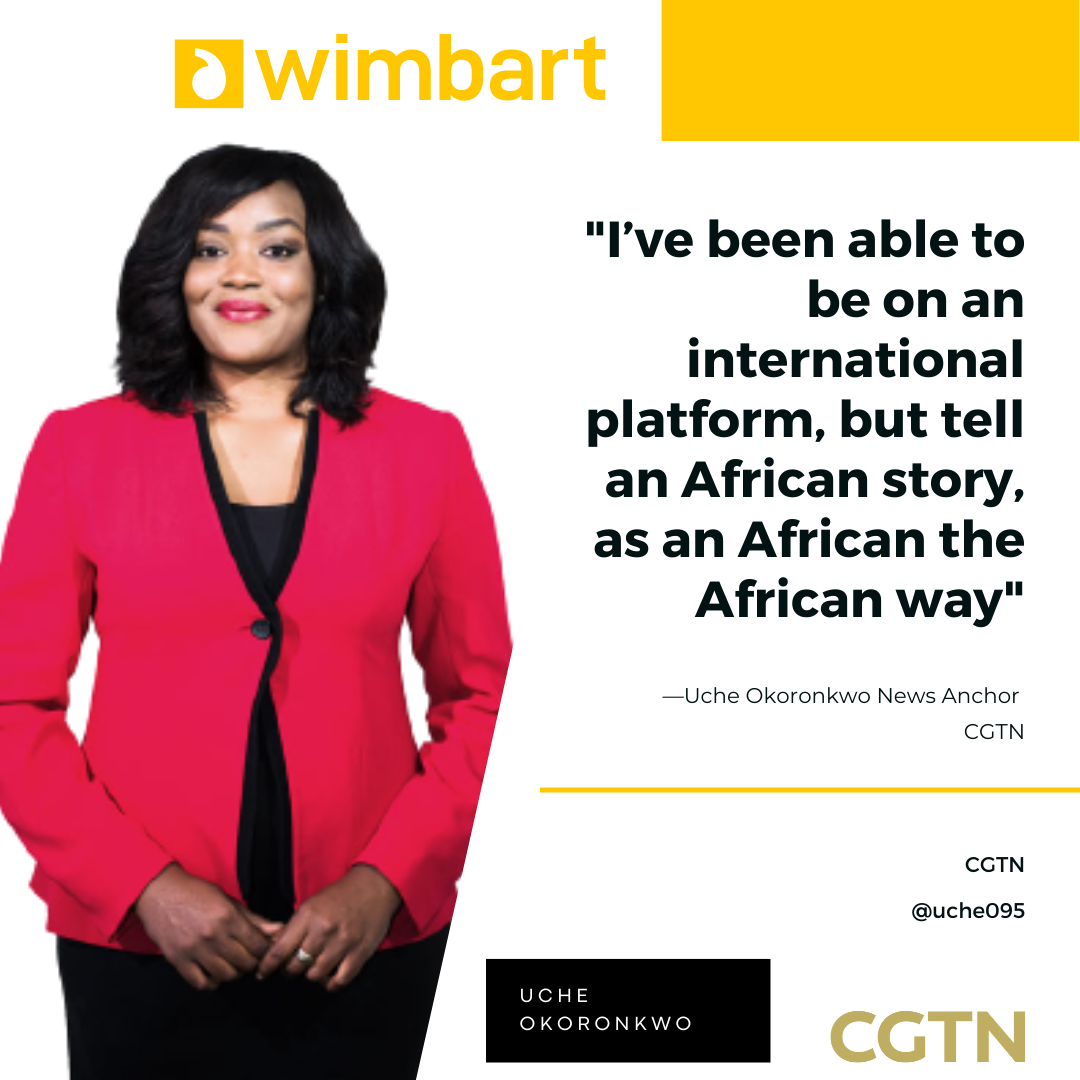 Uche Okoronkwo, CGTN
This week we feature Uche Okoronkwo, Anchor at CGTN Africa. She talks about the dangers of a single African story, why she loves tech and how the continent's dynamic culture leads to great storytelling opportunities.
What led you into the journalism world and what would you be doing if you weren't a journalist?
I feel like journalism was natural and I didn't think about following any other path – I was either going to write or be on TV. Of course, coming from the typical African family, I was expected to go into law or become a doctor, which is what both my siblings have done. But my parents were in communications, and when I said I wanted to go down the communications route, they said, 'oh okay, no problem'.
Did you read a lot when you were younger?
We read a lot, more than normal kids. Because my parents were both communications majors and are both writers, we had a huge library. We used to have competitions during the holidays where we each had to write a short story or a poem for my parents.
Do you feel like Africans, more than other people around the world, have the art of storytelling intrinsic to them?
Definitely, because you are brought up being told a lot of local stories. Although I was brought up in a melting pot environment in Abidjan and we were sent to a very mixed school with people from everywhere around the world. Yes, my parents would tell us stories that originated from Africa but my true love for telling African stories came later.
So that translated into the world of broadcasting and TV reporting. What makes stories about African businesses such a unique field to report on?
During the whole Africa Rising period I was doing my masters in New York at Columbia and there was the option to stay on for a year and maybe work for a US publication. I remember at the time Chimamanda Adichie was talking about the danger of a single story and I was really excited about what was going on in Africa and particularly in Nigeria. So I remember sitting there and thinking that I don't want to just talk about Wall Street.
When I came back, it was very interesting, because so many people were trying to create a modern Africa, but in an African context. For me that was very fascinating, especially in the tech world. People were creating solutions that were not necessarily global, but that worked in the African context.
Is there anything that would catch your attention when someone is trying to pitch a story or when you heard about a news story for the first time that makes it a great piece?
I'd say being an African journalist I love stories that touch on development and the way things traditionally are being done. I love to see how something will change African lives and how we are doing it differently, how we are disrupting and how it's being done.
And now with CGTN you are covering a really broad range of topics. Are there any sectors or industries that you have a personal interest in?
Definitely tech. Tech is the future. I also love the agricultural sector because a huge part of our lives rely on agriculture. But tech is what's changing everything, and, especially after Covid-19 we're waking up to how important tech is to Africa right now and the acceleration seems so drastic on the continent.
If you come to Kenya you'll experience M-Pesa. Everyone that comes here is really shocked with how the system works, how it's changed the way we traditionally do things. It's something new and the way tech solutions have changed the way unbanked populations transact is almost like creating our own systems. For example, I did a story on a company called Kwara – what they've done is to take this very traditional concept of savings cooperatives, and said let's digitize it. We are leapfrogging from the formal financial sector and creating a whole new way of doing business.
From a pan-Africa perspective, why do you think it's so important for people to hear about these stories?
When Chimamanda Adiche came out and wrote this whole piece about the danger of a single story, being an African and being a journalist, you see it every day. But it's truly not the case when you come on the ground and realise there's so much going on. And yes there are very harsh and difficult circumstances, but there is also so much promise, development and change. Basically there is still an overarching single story being told, but you have to understand that African culture is dynamic, it's not backwards and it's not all doom and gloom.
I remember the Economist did something about Africa being a dark continent, but being an African and being on the ground, you know that is just not the case. What I'd love to do is to show people there's a lot of development, there's a lot of intelligence, there are people who are trying, and maybe that can channel more interest in funding for the bright entrepreneurs doing fantastic things.
How do you think we can encourage more Africans to join the writing community, TV and media?
By showcasing more Africans that are doing exactly that. For example, when we look at African writers, many of us were told it's not an industry that's paid well and that there are barriers to entry. I think in the wider media there are people out there who are really telling the Africa story well. But if they see that we don't have to emulate our European and North American counterparts, they realize there's room for homegirl African journalists to tell the African story the African way, we don't have to sound a particular way. And we can tell our stories just as well as anyone else. In my career, that's what I'm grateful for. I've been able to be on an international platform, but tell an African story, as an African the African way.