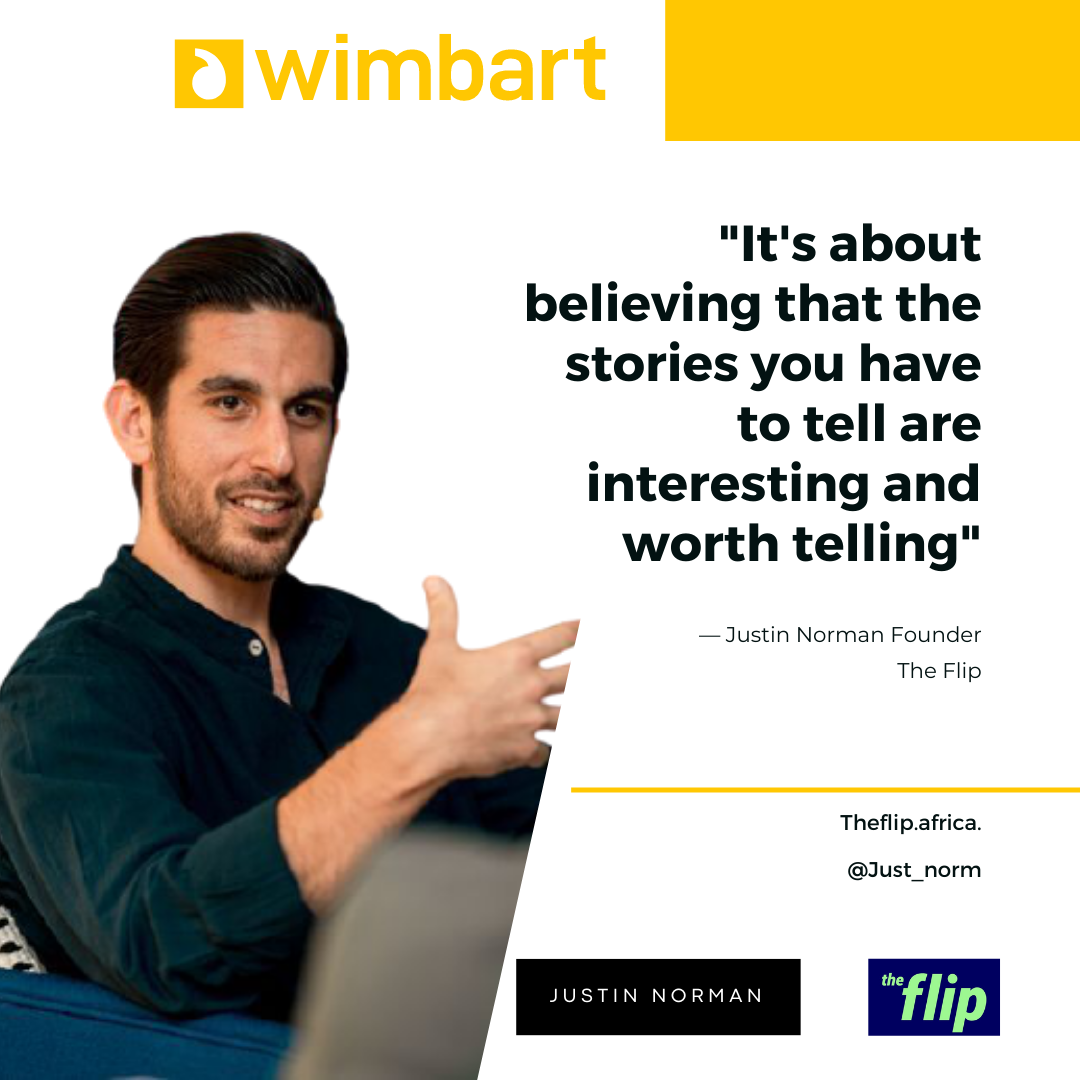 Justin Norman, The Flip
This week we feature Justin Norman, Founder of The Flip – a podcast and newsletter exploring contextually relevant insights from entrepreneurs changing the status quo in Africa. Justin tells us how he was inspired to start his podcast, the sectors he thinks will boom this year across Africa and why global businesses can learn a lot from the innovations being birthed in Africa.
What was the defining moment that made you take the leap to start your podcast? What would you be doing if you weren't doing The Flip?
Back in early 2019, I remember feeling frustrated with the lack of in-depth content on the African tech ecosystem. I came from the US, where there is an over-abundance of content on the (Silicon Valley) startup ecosystem, and I wanted and needed something comparable in the African context. I had a lot of misconceptions and really wanted to learn. I recall a specific instance that pushed me over the edge – I listened to a podcast interview with Michael Jordaan, the former CEO of FNB in South Africa, who had at the time been involved in launching two new businesses – rain and Bank Zero. I was really eager to learn from him but all they talked about in that interview was his wine farm! From there, I asked my friend Sayo Folawiyo, the Co-founder and CEO of Kandua, if he'd be interested in doing an interview with me, and the rest is history.
If I weren't doing The Flip, I think I'd like to be a VC. I used to joke that I wish I could get paid to network – and I suppose I kind of made that happen! – but I really like having a breadth of conversations and working relationships with founders, developing a point of view, and being able to (hopefully) add value to the important work they're doing. I think that's somewhat comparable to the work of investors, as well.
When you're searching for guests or topics for the show, what do you look for and what tends to attract your attention most?
The Flip is a narrative-style show, so we primarily think in themes. What are the topics we want to explore and from there who would make a great contributor to a conversation about that topic? We are trying to create increasingly in-depth content, and I am finding that it's not only beneficial to talk to founders but especially high-level operators, as well, who may have an even greater depth of insight.
Why, in your opinion, is African business so unique and what makes it so exciting to talk about?
I think it's unique insofar as there are still lots of misconceptions about African markets. The uniqueness for me is around unlearning my (western) mental models to better understand how and why things function the way that they do. But I'm not sure that African business is actually any more unique than business in any other region – it's just it's own thing, and like anywhere else in the world, companies need to build accordingly.
Do you have any particular love for any sectors or industries? And are there any (sectors/trends) you think will really blow up this year?
I am especially interested in the so-called B2B commerce platforms that are building services for last-mile retailers and that can be layered on-top of last-mile retailers. If we accept that last-mile retail will remain necessarily fragmented – due to the realities of African cities and the consumers that reside in them – we can see how important it is that these retail stores become increasingly convenient and add more services for African consumers.
On the other end of the spectrum, I am deeply interested in web3 and the ways in which this new infrastructure can have a transformative impact in emerging markets. I suspect we'll continue to see an increasing wave of various crypto startups, though I think the real potential for web3 in Africa is still at least a few years out.
I truly think a lot can be learned from African markets
Why is it important that people around the world get to hear about young, growing companies on the continent?
I don't assume that everyone should care about what's happening in African markets – I suspect many do not – but for the most ambitious and curious people, I think paying attention to what's happening around the world is useful and important. I truly think a lot can be learned from African markets. I recall a post on Hacker News from Stripe's Patrick Collison, where he wrote that the inspiration for Stripe shipping payment links came from Nigeria and other emerging markets. He wrote, "I suspect that staying abreast of important new patterns emerging outside US/Europe will become more important for many businesses in the years ahead… there are a lot of legacy assumptions being questioned."
It's about believing that the stories you have to tell are interesting and worth telling
How can we encourage more people to join the African media community, and dedicate their energy to helping us continue to tell awesome stories about African tech and business?
We live and work in an age in which 1) anyone can be a content creator, 2) the barrier to creating and distributing content is as low as it's ever been, and 3) the potential personal upside to creating content and publishing on the internet is as high as it's ever been. It's about believing that the stories you have to tell are interesting and worth telling, and for anyone interested in or considering telling stories about African tech and business, I 100% encourage it.