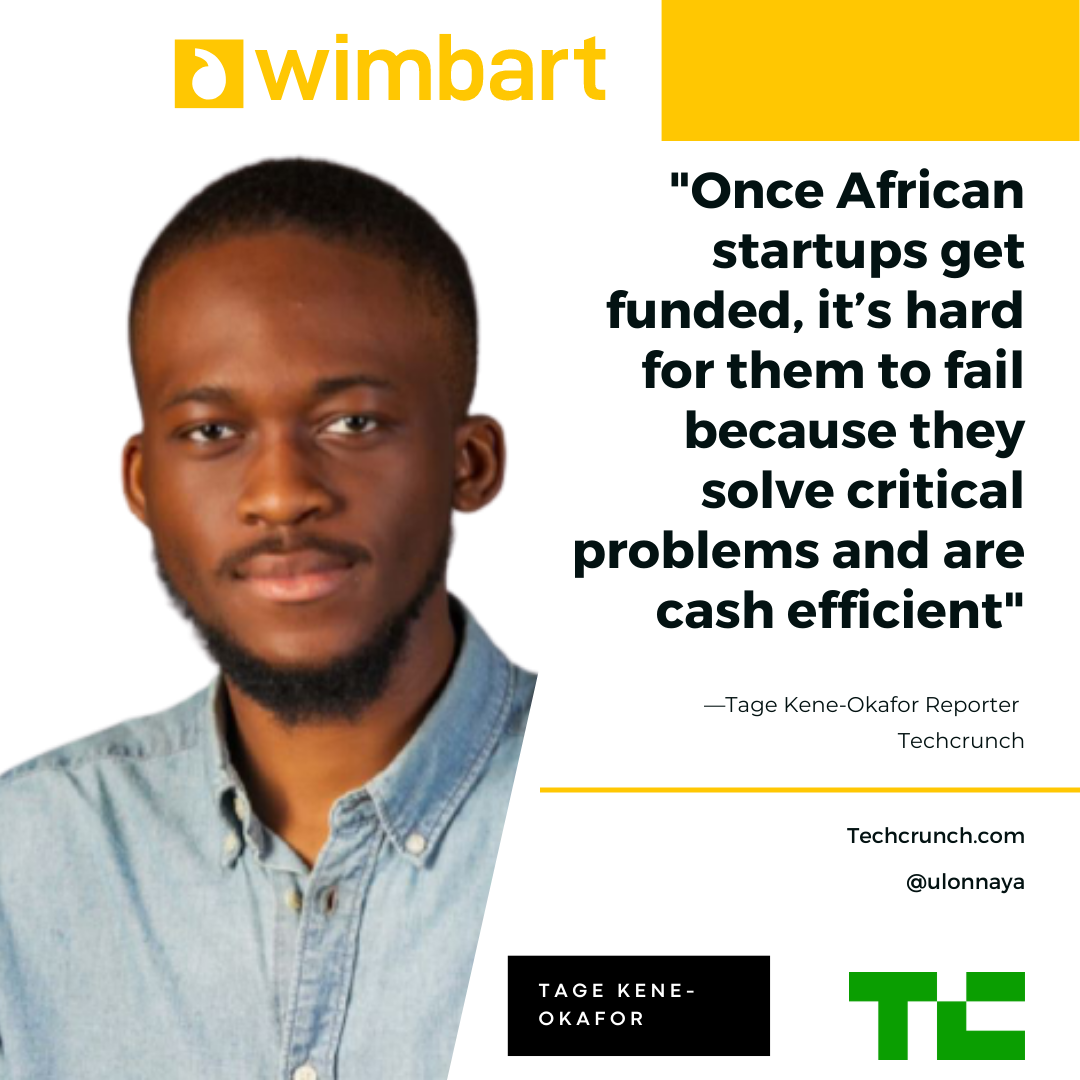 Tage Kene-Okafor, TechCrunch
For our third edition of our African Media Spotlight series we spoke to Tage Kene-Okafor, Reporter at TechCrunch. He talks about how he would be a founder if he wasn't a journalist, why fintech is still grabbing his attention and what we need to do to get more local African journalists writing about tech.
What led you into the journalism world, and what would you be doing if you weren't a journalist?
I'd say Techpoint Africa led me into tech journalism or reporting. This was in mid-2019 after hands-on training in a writing boot camp. Before then, I didn't see reporting as a career path, but since the opportunity to do so was in tech, I was interested in giving it a shot.
My interest in tech started almost eight years ago, and like practically any tech person, it was fuelled by reports on tech publications. For me, the captivating stories were founders solving problems, raising venture capital and building sustainable companies. So, if I wasn't a tech journalist, I'd be a founder. It's something I've tried in the past, and I think I will try again in the future.
But then again, I'm grateful for the opportunity to write about startups and founders for the same publications that have spotlighted their activities for years and made me love tech in the first place.
When you're hunting for stories, what is it that typically captures your attention?
At TechCrunch, the bones of what we do are built on scoops, meaning important, exciting or breaking news about startups, founders, VCs and everything in between.
That's what we are known for and it's not going to change anytime soon. Because of how young African tech is, the bunch of exciting startup news still falls under funding rounds, unlike the US and other matured tech ecosystems with a mix of rounds, big tech, prominent founders making bold and silly moves, work culture, diversity and policy stories.
But every funding story is our chance to highlight the problems these startups are solving and why they matter, adding valuable context to the numbers.
If I wasn't a tech journalist, I'd be a founder. It's something I've tried in the past, and I think I will try again in the future
In Africa, startups or products that have a global story and a shot at capturing a global audience pique our interest because they're pretty rare. I'm also particular about reports on VC funds, Big Tech and policy that affect startups, and geographic expansions outside Africa.
Which sectors are you loving at the moment and why?
At the moment, it has to be fintech. The sector is remarkably early that there's so much left to build to solve problems around financial inclusion, payments, lending and credit, investments for the underbanked and unbanked.
I also find fintech in Africa interesting because it mirrors the activities of Global South counterparts and those up North with more sophisticated problems around blockchain, wealth management, crypto, and open banking.
Startups in other sectors like logistics, mobility and e-commerce are exciting because after making tweaks in business models (following years of hitting regulatory and market obstacles), they're making quite a comeback in the region.
Albeit later than counterparts in other regions, Edtech and Healthtech are seeing uptakes in value and activity too spurred by pandemic-induced lifestyle changes.
Now, it feels like almost every big-name investor from Tiger Global and SoftBank to Sequoia and Target is taking notice of Africa.
Then, there's web3 or decentralized internet. Although it's still early days, and I wouldn't classify it as a sector, it's an exciting technology that gives African founders a chance to build global applications and startups in a way never done before.
What makes African tech such a unique and exciting field to report on?
It has to be the fact that Africa has finally reached an inflection point after years of laying the blocks to get there.
It's fascinating to see that happen after years of reporting from local media and international publications like TechCrunch touting the region as the next frontier for technological disruption.
Now, it feels like almost every big-name investor from Tiger Global and SoftBank to Sequoia and Target is taking notice of Africa.
Their interests have spiked VC numbers to around $4 billion, which is twice our previous all-time high, minting five unicorns in the process. For me, documenting this progress makes African tech an exciting field to report on.
Why is it important that people around the world get to hear about young, growing companies on the continent?
It's crucial for people globally to know about young African companies because they are being built by founders living in the most challenging societal and governmental circumstances anyone can think of.
VCs hardly throw money at startups with just ideas, most of them need to have prototypes, products or show business fundamentals. But once African startups get funded, it's hard for them to fail because they solve critical problems and are cash efficient. Take, for instance, 20% of the startups in Y Combinator globally have failed. In Africa, that number is less than 8%. That is just one instance that speaks to the tenacity of builders in Africa.
How can we all encourage more people to join the continent's writing community and dedicate energy to telling stories about Africa's next chapters?
For local tech media, I think one way to do that is to make people see reporting as a job with attractive pay. Say what you will about money being a wrong motivator to write, but I think it's what some people need to pursue a career in tech reporting and tell compelling stories.
I have no idea how local tech media will make that happen, but they've done great so far, building and shaping reputable reporters with little or no venture capital. While most live on grants, taking on venture capital will make it easier for them to take on more writers, increase their newsrooms and tell more important stories. But then, there are cons to taking VC money as a media entity.
That said, as African journalists continue to shed more light on the exciting stuff happening on the continent, there's a wide range of access and network opportunities they are witnessing locally and internationally as a result. The next crop of writers are taking note, which might be the push they need to join the continent's writing community.