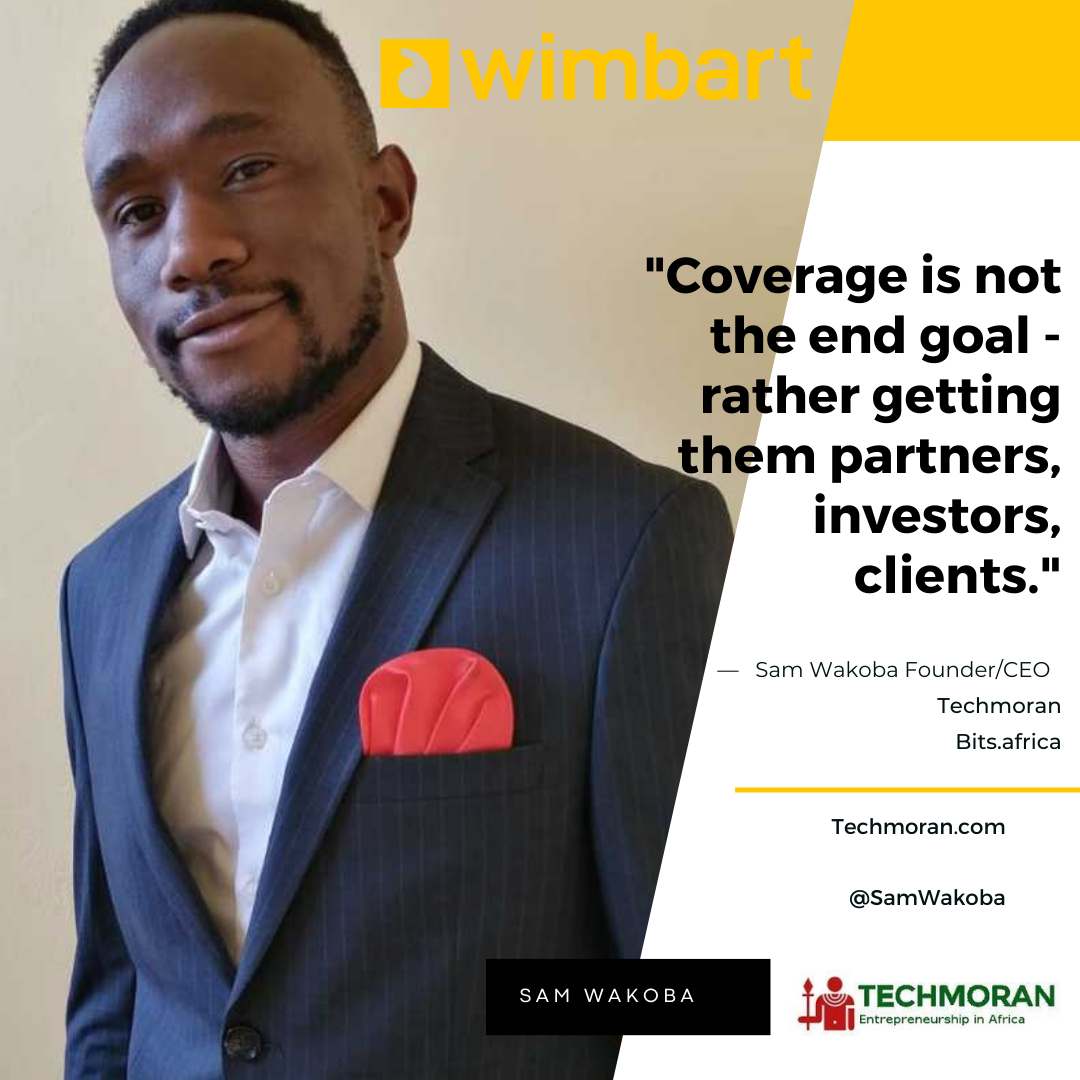 Sam Wakoba, TechMoran
Our second Wimbart African Media Spotlight features Sam Wakoba, Founder and CEO of Techmoran. The series brings writers and publishers out from behind the pen to shine a light on their skills and perspectives of the African tech and business world. Sam talks about his interest in fundraising, how young entrepreneurs inspire each other and why he loves a David and Goliath scenario.
What led you into the journalism world and what would you be doing if you weren't a journalist?
I studied political science and jumped straight into the marketing, advertising and PR world, but soon realised my strengths were more in journalism. Back in 2012 I didn't see much being written about innovation across Africa so I was really motivated to provide a platform to support what entrepreneurs were doing at the time – there was a big focus on SMEs rather than startups. While writing for a daily newspaper it became obvious that they didn't see the need to cover tech because it was still a nascent industry, and I noticed how traditional media were more interested in sectors like agri or manufacturing and broad-sweeping topics like politics. So I was motivated to create a media publication for the increasing numbers of young entrepreneurs who were leaving university and building stuff for themselves and their friends. You know, the ones being inspired by people like Mark Zuckerberg. There was a surge of smart graduates realising that they could start their own businesses and were looking towards Silicon Valley, so I was pulled into journalism that way.
When you're hunting for stories, what is it that typically captures your attention?
Originally it was about fundraising, but now I like to see a young company doing what a corporate would normally do. Maybe doing it better or doing it well. I love David and Goliath scenarios!
Which sectors are you loving at the moment and why?
I've always been really interested in the investor side of things, so I don't have a particular leaning. Since 2012 it was clear how complex it was for investors to put money into web-enabled businesses and I was completely fascinated from the get-go.
What makes African technology such a unique and exciting field to focus on?
You realise, especially in sub-Saharan Africa, that most things are broken. Transport is kind of broken, infrastructure isn't great, healthcare is nearly non-existent, security, housing and most of the sectors are lacking government input.
Africa is ripe for innovation because we have so many issues that don't exist in other regions
With startups, most of them launch to provide solutions where the government or civil society has failed. Sometimes it's even the wider private sector that hasn't delivered. Africa is ripe for innovation because we have so many issues that don't exist in other regions. And now Google and Facebook are putting huge sums of money into the continent – I think we could probably credit some of that to a growing African tech media output.
Why is it important that people around the world get to hear about young, growing companies on the continent?
Number one is to inspire other young people. Maybe there's a platform in Nigeria working on logistics, like Gokada for example, that expands into a new city. Suddenly an entrepreneur in Nairobi, Kampala or Dar es Salaam can see that there's a viable business that they can recreate. Young entrepreneurs can learn from each other and be inspired to develop ideas.
Number two, it's easier for fundraising – people can get in touch with each other or investors. If you're reading about a business elsewhere that's raised funds then that gives you the confidence to reach out to investors and pitch your own idea. These stories need to be told because although the markets are different, we share similarities between African countries. We're in the business of creating role models.
How can we all encourage more people to join the continent's writing community and dedicate energy to telling stories about Africa's next chapters?
We need to look at the results such as stories of people exiting their companies or building Unicorns. I think it would be much easier to explain to journalists who are thinking about entering the industry, that because of coverage these companies met investors, then scaled to other markets and regions, and then built their success off the media.
Young entrepreneurs can learn from each other and be inspired to develop ideas
We don't just need reporters, but also creatives and storytellers – video, TikTok, YouTube and blogs – we are connecting entrepreneurs to the wider world and there are many ways to do that. The coverage is not the end goal – but rather getting them partners, investors, clients. It could even be one Tweet about a company in Joburg, but that can reach people in a Mauritius-based fund, or Toronto or whatever. And let's do more reports. These venture reports are showing the results of what we've been working towards over the last decade. It's super exciting to see so much funding available for young African entrepreneurs.