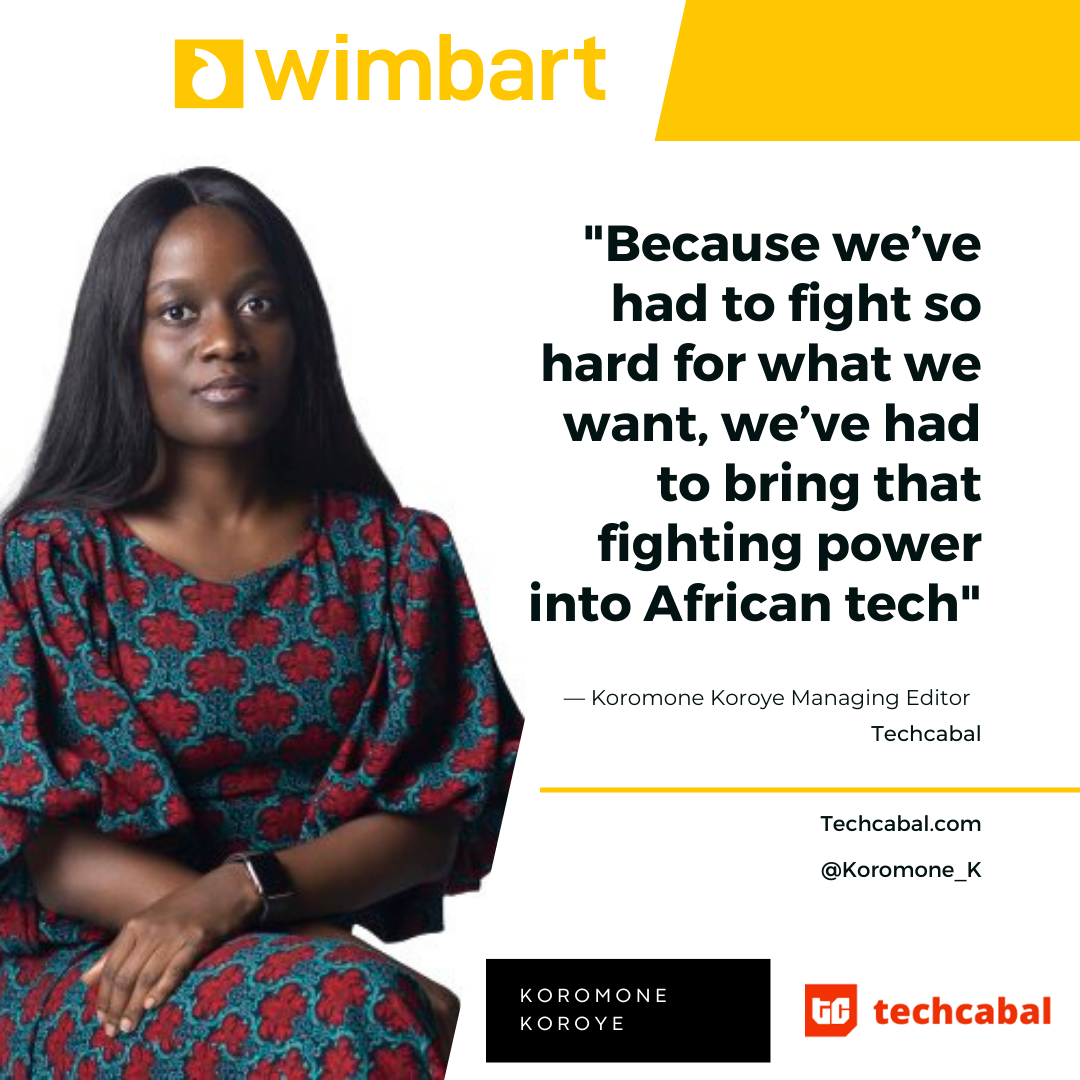 Koromone Koroye, TechCabal
As a growing body of African journalists continue reporting on the technology and business sectors, we want to showcase and celebrate these individuals. Wimbart's African Media Spotlight will feature a writer or publisher each month who is communicating Africa's stories with the vigour and insight that they deserve, bringing them out from behind the pen and shining the light on their skills and perspectives. We kick things off with Koromone Koroye, Managing Editor at TechCabal, as she takes us through what inspired her to join the journalist community and speaks about the importance for Africans to grab the narrative when it comes to tech.
What led you into the journalism world and what would you be doing if you weren't a journalist?
I guess I'm interested in people and I've always wanted to dig deeper to understand what makes people tick. I'm someone that just isn't satisfied with surface level information and I like to ask questions because I feel like that's a way that you can really learn. If you don't ask questions you're never going to expand your thought process beyond a certain point. So journalism created that avenue for me to talk to people that I really wanted to talk to and get their perspectives on things that are happening, especially within Africa's tech ecosystem.
My initial core focus was brand communications and brand management, and my pivot into journalism via TechCabal was because I got a bit bored working for one specific company and I wanted to build more of a broader understanding of the ecosystem.
To be honest, I never thought I would end up here. I studied in the US and then worked for a fintech company. If you'd asked me back then what I was going to do, there's no way I would have been able to give you a clear answer. But I'm really happy about the directions I took and the decisions I made.
When you're hunting for stories, what is it that typically captures your attention?
Because of the platform we have, a lot of startups want us to feature them, so we tell them, first things first, we need to know the impact. So since you've launched, what kind of impact have you had? It doesn't have to be enormous, but we need to know that you are doing the work of fulfilling your mission. Sometimes we say, a bit like an investor might, why don't you come back to us in 6 months.
By telling these stories we're letting the world know, 'hey we are taking this storytelling narrative into our own hands now'
When we're hunting for stories, we're looking for people who have overcome major obstacles to build products and services for Africa. We're looking for founders who've faced a lot of issues raising capital and were able to eventually raise and kick off their business. Essentially we're looking to speak to anyone who is really dedicated to building the continent. What matters to us is that you're driving the ecosystem and your business is really addressing a need, particularly high impact entrepreneurs who are legitimately building for excluded and marginalized communities – for example Tayo Oviosu of Paga started it off as an agency business and eventually made it so that he was able to acquire huge numbers of merchants and create an agent network that is creating jobs. People like that fascinate us because we follow their journey and see the evidence that they're actually serving the people that they said they'd build their company to serve.
Which sectors are you loving at the moment and why?
I'm moving away from fintech and finding more interest in healthtech and edtech, and soon enough I'm hoping we begin to explore biotech and produce more vaccines for diseases that have really attacked Africans. The malaria vaccine is super important because it kills more African children than it should. So innovation like that in health is crucial for the continent and I want to see more companies in that area get funding over the next few years.
What makes African technology such a unique and exciting field to focus on?
It's because the odds are stacked against us. We have so many obstacles and so many issues that we have to deal with. But in the midst of all that you have this group of people who are super smart, resourceful Africans right across the continent. Because we've had to fight so hard for what we want, we've had to bring that fighting power into African tech. And so we're letting the world know that it's not about huts and elephants anymore. Now, if you want to have really intelligent developers and software engineers you're going to come to Africa and look for the best of the best. So it's exciting because it feels like we've just burst into the scene, and yes, we have a long way to go, but at the same time, for where we are, technology is a lifeblood for a lot of people. That's super exciting to watch and actively be a part of.
Why is it important that people around the world get to hear about young, growing companies on the continent?
They need to know about these stories because of the way that media, particularly international media brands, presented Africa for such a long time. Those of us that went to school in America had to deal with the ignorance that we were surrounded by, with people not knowing anything about Africa or Nigeria. By telling these stories we're letting the world know, 'hey we are taking this storytelling narrative into our own hands now', and we need Africans everywhere to understand how important it is that Africans tell their own stories. So TechCabal is just setting an example. We are one of the examples of media publications on the continent that are dedicated to telling stories, we don't tear down businesses and founders. We don't compare companies and create competition, rather we present facts.
'If you want to have really intelligent developers and software engineers you're going to come to Africa'
We know how important it is that we preserve their image because an international brand won't do that because they're not invested in the country or the continent. They don't have any ties. We do have ties to Africa, to Kenya to Nigeria, to Ghana, so we're not telling the stories for our sake, we're telling them for the sake of people that are going to come up behind us and see the archive that lets us know what was happening in tech in 2005, or 2010 or 2015. It's super important that we record every historical event.
How can we all encourage more people to join the continent's writing community and dedicate energy to telling stories about Africa's next chapters?
I think as often as possible, and this is something that I encourage reporters to do, we need to talk about our work, talk about how exciting it is to work for a media tech company. The more of us that are doing that, the more we can create opportunities where we're speaking to aspiring journalists and writers within certain communities. People are going to tell you that you can't make money from it, but eventually you can. I know from working in this sector, if you develop your skills to a certain extent you can work anywhere, for any company. The advantage of working for a company like TechCabal is that it's now so pan-African and international, that if you decide you're going to move on, you'll have so many options to choose from. You could get hired by a fintech company or whatever it might be. We understand that it's not the best paying sector, but at the same time the opportunities that exist if you work hard and build your network are limitless. It's about breaking that mindset and encouraging people to move into the liberal arts. We have to tell more people about the opportunities that exist.