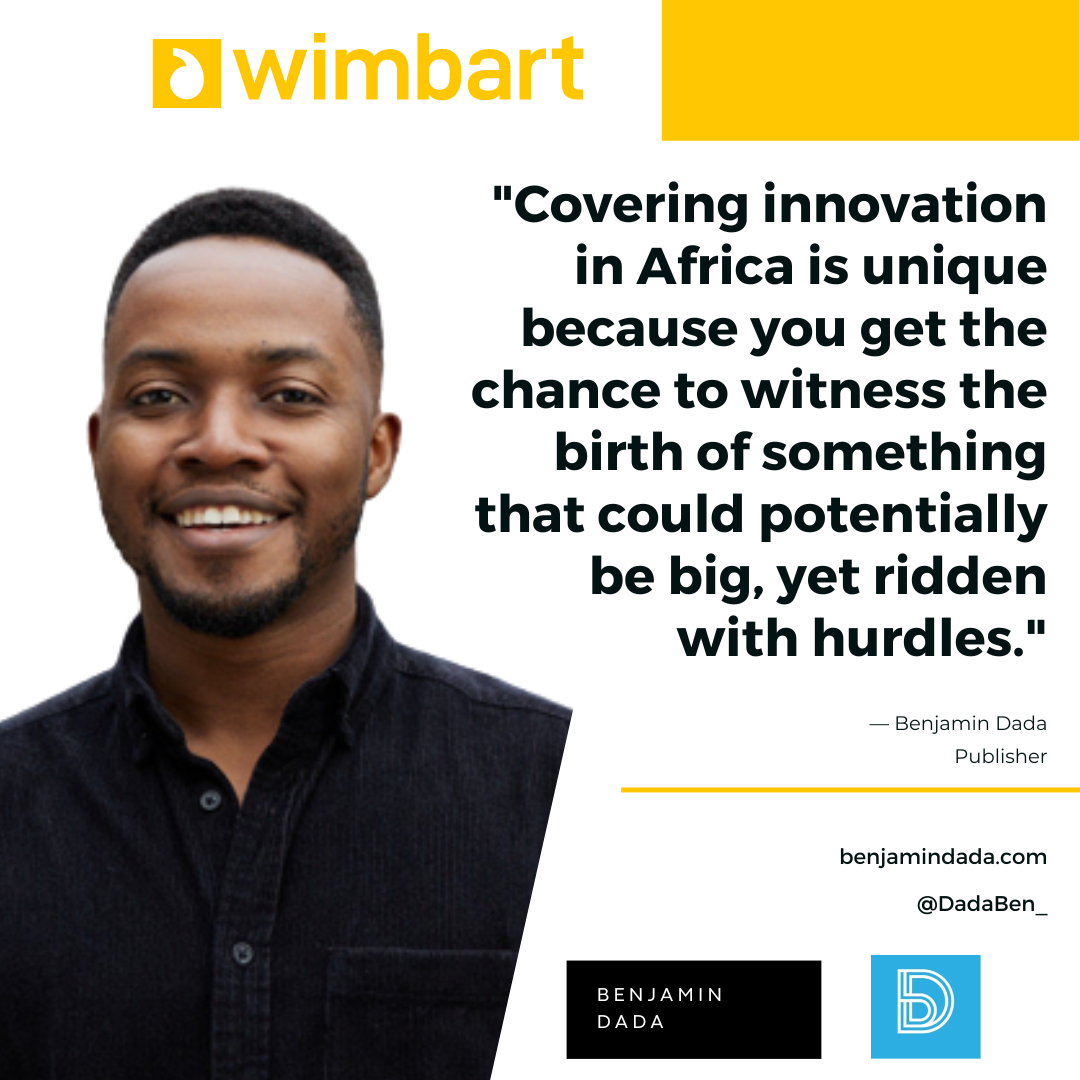 Benjamin Dada
We caught up with media entrepreneur, Benjamin Dada who was one of the first journalists to have founded a self-titled platform in a time where substack's were not as popular as they are today. He also speaks about how his discovery of a tweet led him to become a tech journalist.
What led you into journalism, and what would you be doing if you weren't a journalist?
A tweet. A tweet led me into journalism, or rather tech journalism. In November 2016, I spotted a trend that I thought was newsworthy and sent it to an editor of a local tech news site. I don't accurately recall the order of events but I might have either sent the original tweet or the medium article I created off the back of that tweet. Once the editor received my message on Twitter, she asked if I wanted to write about it on their site. I said yes. And that's how I got into journalism.
I personally don't call it journalism because I feel like journalism requires a certification or some alignment to stand by certain ethics and policies. However, I'd been trying my hands out with online blogging/writing from a year before (2015). My first meaningful post was about what I learnt from rejection as a job seeker.
But being given that opportunity to contribute to another person's platform, which was tech-focused, is how I got into tech journalism.
Regarding what I would be doing if I wasn't a journalist, I think it is kind of easy to figure that part out as I am already doing everything I would have been doing if I wasn't a journalist. I would still be working at startups, as I am currently doing. I would also still be in the business of storytelling, content creation, or breaking news which is how I even started. The only difference is that now, I'm a media entrepreneur with staff on payroll, in addition to everything else I'm doing.
When you're researching stories, what compels you to work on sharing a particular story with your audience?
These days I do less of the actual writing, more on the directing and/or editing. But the few times I write, a couple of factors come into play.
For one, I could look at what's trending in the online space (majorly Twitter, my base). What do people want to know? What are they confused about? And how am I best placed to tell this story?
I also know that my audience likes fintech explainers, so this is beyond just what is trending, it is also about the kind of stories that people expect from my platform. So whenever there is an issue, they are always very eager to hear what I think. I believe this is because I work in the fintech space, so they believe that I have some of that insight and/or I have access to most of the people that can comment or contribute to the conversation.
In 2018, I wrote an explainer on what the CBN (Central Bank Nigeria) meant by a 5 billion Naira fintech licence because many people had gotten worried that fintech-related licences were about to cost 5 billion, which wasn't the case. More recently, there was a virtual card downtime and people couldn't seem to fathom what was going on. I wrote an expository essay on the virtual card issue and then, passed it on to one of my colleagues to expand on the virtual card alternatives startup's and consumers have.
Second, I ask my audience growth manager for ideas on what to write about based on our keyword research. One of such times, buying dollars in Nigeria was trending on Google Search. So, I moved in to write about it. My article on how to get dollars in Nigeria was one of our most read for the last quarter (Q3 2022)
In addition, I also do special features on tech professionals. This is most effective when I have some personal connection to their story. For example, in my feature of Ted Oladele I'd worked in the same Yaba where he lived. I had followed and reported on his current and previous companies. And more importantly, we'd started our tech journey about the same time, so I could situate myself well and take a vantage point.
Also, if the story is paid, which is one of our revenue sources–especially as we don't allow programmatic ads on our site. I/we do paid stories in different formats, e.g a deep dive into your product, startup or people (written by us) or a sponsored post (written by you, a client).
In summary, what I write personally could differ from what my media publication writes and publishes. But it usually centres around what the qualitative and quantitative data is telling us. And also, what entity is willing to engage us in a paid partnership – cause running a publishing operation costs more money that people might see from the outside.
I see it as an honour to be able to report what's happening to Africa as an African. We are literally able to tell our own stories! So, I count my exposures, education as armour that I can deploy to improve the quality of stories on African tech.
Any hot trends we should look out for in the coming months?
There are three major trends I've observed as it relates to the media:
One, startups and other adjacent industry players are building media outfits to go direct-to-consumers with "Content Marketing" as the umbrella name. For example, Piggyvest, a fintech startup. Earlier in May 2022, I granted them an interview, in the same way I granted TechPoint, a media company, an interview. and now, I'm doing an interview with you (Wimbart), a PR agency.
Two, these startups take talent from existing media companies. The knock-on effect is that media companies continue to struggle to hire and retain their talent. For example, startups—GetEquity and Stax—hired one of our (Benjamindada.com) staff to do marketing for them. In GetEquity's case it was a Product Marketing role. With Stax, it was to build out a standalone media product–which ties back to my first point above.
Three, journalists, formerly at media orgs and maybe now at startups are building their own media platforms. Hello substack. For instance, the founder of notadeepdive newsletter, Muyiwa Olowogboyega, used to work at TechCabal and currently does some work for Lemonade finance, a fintech startup.
I'd just say, it's a good time to be a journalist in Africa because there are so many "exit" options, what our investment bros call "exit paths", abound.
In the coming months, it would be interesting to see how all of these three trends that I mentioned above play out. There are a few key questions like:
Will startups be able to sustain their media empire formulation? Without it distracting from their core business.

How will the audience consume such content vis-a-vis a standalone media platform like Benjamindada.com

What new recruitment strategies will media platforms deploy to attract and retain their own talent. We've already seen one of the oldest media companies in Africa go the route of Venture Capital. Whether this is the best way to go or not, remains to be seen. But one thing is sure, they'd be able to compete more favourably for talent, including tech talent needed to engineer products.
How will tech journalists balance their content creator side with a full time startup job? Or what would the future model look like.
For question three, they have me, as an example. In 2018, when I set out to build a blog (which became a media publication), I was working at a tech company. As a content creator, I was creating written content about tech and innovation in Africa. My first post on benjamindada.com was an interview with a female founder and it was published on June 17, 2018. At that time, Substack wasn't popping in Nigeria. One of the most successful substack publications in Nigeria, Communique was founded just three years ago.
So, I didn't have a blueprint. I kept figuring things out on the fly. It was not long until I started allowing other guest contributions to the site, these were just volunteers. And later on, I hired staff writers.
I think many creators or journalists will continue to innovate around this model of hiring a team. The art of hiring a team to power your creation is not novel. The likes of MKBHD, a popular tech youtuber, have been doing this for a long time. But I find that many people have had to remain the face of the platform to keep it running while they hire a team to run back-office operations.
In my case, I've happily championed other people being the face, I don't need to be the creator for the platform to keep running. So, I find that I'm an Olamide (an artist that has other artists) of tech content creation where YBNL is BCSL (the parent company of Benjamindada.com).
Long story short, I'm eager to see what the answers to the questions I have around the trends are.
Why is African business so unique and what makes it so exciting to report on?
African business is unique because you get the chance to witness the birth of something that could potentially be big, yet ridden with hurdles.
For example, the UK's tech and startup scene is so mature—there is access to capital and consumers have more disposable income. So, building SaaS businesses is feasible. And in fact, it looks like culturally, businesses are very open to leveraging automation tech (which is usually bundled into a subscription service, hence, SaaS) to carry out their tasks.
But in Africa, our realities are not the same. So, it's interesting to learn and report on the workarounds and hurdles that these entrepreneurs go through to build a successful business.
What makes Africa reporting so interesting to me is that I have a chance to document for posterity all these evolutions. For instance, there is a "japa" wave via tech. Nigeria has experienced this in time past, per medical professionals exiting Nigeria. But I'm right here at the cusp of the Japa wave.
If you lace the startup boom in Nigeria which started in the 2010s with the "japa" wave, you can tell an interesting story. The rise of tech startups in the country birthed tech talents and now that talent is becoming increasingly global. We've had foreign countries like the UK and Canada encourage the institutionalisation of tech companies from outside of Canada. Now, these countries are embracing tech talent that will work in those organisations. Geographically, people were congregating in Yaba, which in turn made the house prices in that area to skyrocket. But now, more Africans are moving to London, and we've seen housing prices skyrocket.
Digital nomad visas have become a big thing and we get the privilege of reporting and documenting that!
Secondly, I see it as an honour to be able to report what's happening to Africa as an African. We are literally able to tell our own stories! So, I count my exposures, education as armour that I can deploy to improve the quality of stories on African tech. There are some other tech-induced trends that I've learnt about via studying abroad that are yet to play out in Africa. For instance, on the dark side of tech, Surveillance Capitalism. When this plays out, I'm happy that I'd be able to spot it and report in fairness to Africa.
Generally, I feel privileged to watch these things happen and to be a key voice in telling the stories. I joined the startup space in 2015 as an intern at Andela, and I continue to work and document Africa's tech journey.
If we leave all of our documenting to the foreign media houses with big budgets, I feel like there are some stories that they would either miss out on or can not report on because they wouldn't have the context or nuance to appreciate it as much.
Which sectors or industries do you like to cover most and why?
This is a no-brainer as I love to write about fintech. I love it not only because I possess a lot of access to information in the sector, but because of the variety within the sector (e.g savings, lending, insurance). Each of the big sub-sections in the financial services industry can make for a Journalist's entire beat at a media org. So, even if I wasn't working in fintech, I would still see myself doing a lot of fintech reporting. They generate the most news. For instance, when you use funding as a yardstick of who is generating news, fintechs this year have raised one-third of all the fundings received by startups in Africa. I know this because we track funding in Africa.
But other than that, I don't think I would cover any sector in particular, I just want to tell stories about people, products and strategies people are using. Sadly I don't have as much time to do that, but if I had to choose a sector, I would choose fintech, especially payments.
Why is it important that people around the world get to hear about young, growing companies on the continent?
Let me use music as an analogy.
It sounds very cliche, but I think one of the things that attracted me to the sector is music. Music is currently doing a lot for Africa in terms of changing the perception of Africa and bringing a lot of acceptance and respect to Africans. However, I believe the business scene in Africa could also demonstrate this for the perception and respect of the continent. If we leave all of our documenting to the foreign media houses with big budgets, I feel like there are some stories that they would either miss out on or can not report on because they wouldn't have the context or nuance to appreciate it as much. Nobody can report about Yaba as much as people who have worked and grew up in Yaba!
I feel that in terms of telling the truth and providing a full view of the continent, this would need to be owned by someone within the space. I think, chronically, the African start up space is important because you get to tell your story through your perspective and over time people begin to respect the quality of work we are doing. For example, Stripe's acquisition with Paystack – not many ecosystems have companies that have sold to other companies in the world and this is a story that people would need to hear about and appreciate the 'Africanness' in.
How can we encourage more people to join the writing community and dedicate their energy to telling stories about African tech and business?
I think a bunch of people do a fair bit of writing, but I would say that it is an unprofitable endeavour. If you are seeking to build a platform, it is unfortunately not as lucrative. I make a lot of money from my 9-5 that I don't take money from my media crew. If I was to focus on the media 100%, I believe that there are alot of things I could do. However, I feel like this would force a lot of dilution in terms of the type of editorship or ownership. In some media houses, they are restricted in terms of what they can cover because they have investors in their company.
I feel like people who plan to join the writing community would join because they see the other (brand building, attention accumulation) value, as opposed to a job or a path to wealth. They most probably see the value in brand building or giving back, so these people wouldn't need much encouragement.
The only encouragement I could give is to show them other ways to monetise or the long term path of what journalism can do for them. Generally, I don't think many people need encouragement to get started, but they need to focus on figuring out how to keep this path sustainable and I think this is a path that I am still on even though my blog is at a point that it runs itself.
How long did it take before your blog started running itself?
The blog ended up being profitable from year one. In fact the first story I ever wrote, I charged for it (N15k). But this reminds me of the mindset that I was coming into the industry with, as I was bringing my expertise and time to tell a story. We had officially registered in 2019, but in 2020 we started trending upwards and I'm looking forward to what this year is going to be as the blog itself is self-sustaining.
What did the COVID-19 pandemic do for the blog considering the rise in tech opportunities around this time?
I would say I saw any major impact, just because people were always going to read at their own pace. With media, most especially written content, we would always be in competition with Netflix, regardless of the presence of Covid. However, the mere fact that people have more time and are restricted to a digital era doesn't mean that they are committed to using their time to read. They also use this time to watch and listen and do other things.
However, there was the 'End Sars' movement which provided so much content for us to write on and also contributed to the conversations and wider stories surrounding this. But generally, with a media platform, you will have a few stories that will do very well to get people's foot in the door and this can fluctuate. However, I don't think there was a specific Covid-19 influence, if any it was more to do with the type of stories covered such as the End Sars protest or the TechCabal story with Bento. Mostly stories that shape what the readership and audience looks like.