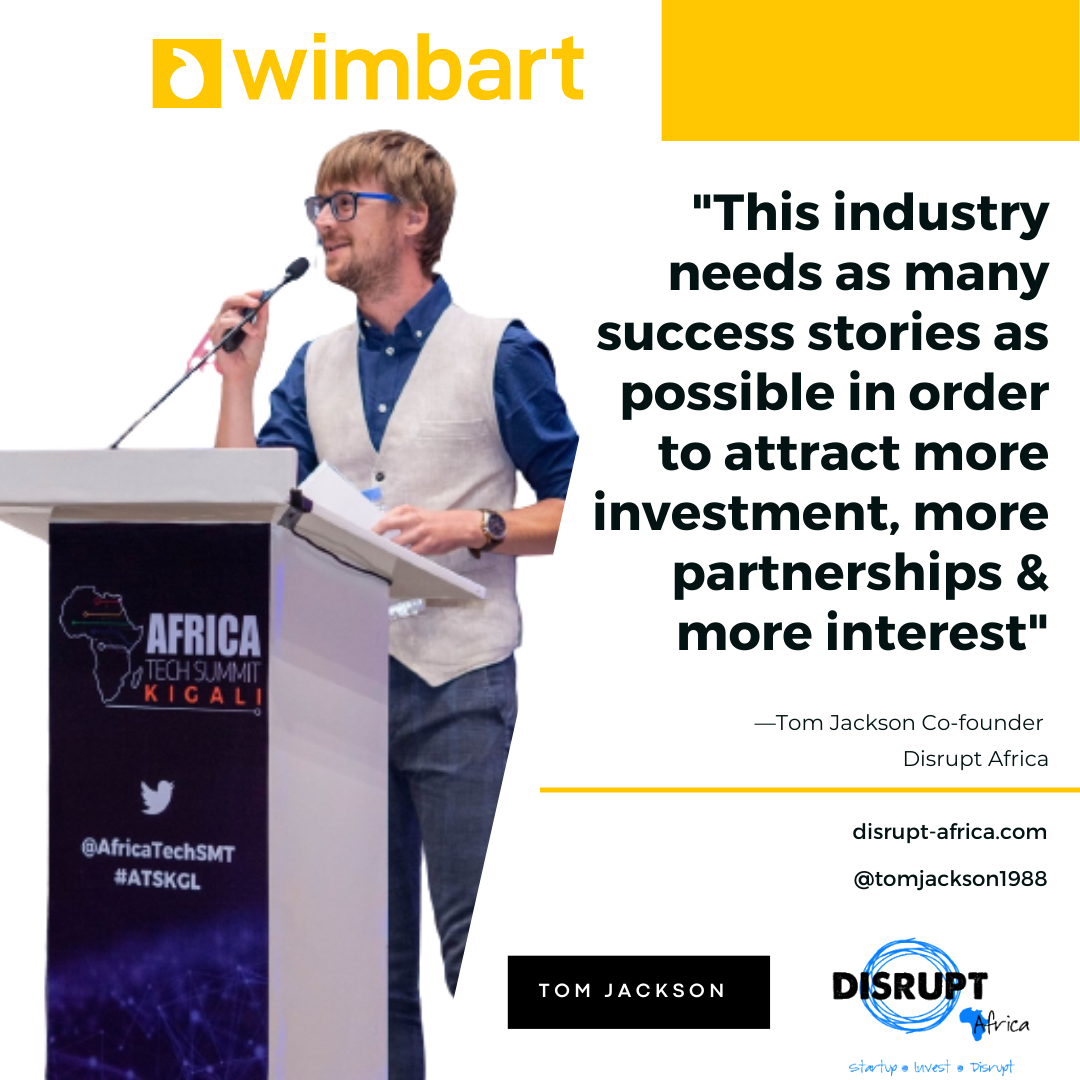 Tom Jackson, Disrupt Africa
In our latest edition of Wimbart's African Media Spotlight series, we feature Tom Jackson, Co-founder of Disrupt Africa, an online newsletter for all news and information regarding Africa's tech startup, investment and ecosystem. He tells us about his early fascination with investigative journalism and explains the importance of paying well to encourage more people to join the African journalism community. Tom's passion for sharing stories of African innovation is tied to his experiences of witnessing the continent rapidly grow in the last few years and believes now "is a great time to be active in African tech."
What led you into the journalism world and what would you be doing if you weren't a journalist?
To be honest, as a born and bred Englishman, it was romantic stories of smoke-filled Fleet Street newsrooms and the books I read about the great investigative journalism of Harold Evans era Times, with a dash of All the President's Men thrown in, and perhaps a desire to irritate my parents, who as a lawyer and an accountant wanted me to become a lawyer or an accountant (or possibly a doctor). I never would have had the application for any of those, and quite honestly never considered working in another profession from when the desire first struck me when I was about 12. If I wasn't a journalist I don't know what I would have done – though as these days I am increasingly "journo-preneur" rather than a simple reporter – and working out of light-filled co-working spaces in Africa as opposed to darkened Fleet Street offices, I guess you can never really predict how things work out anyway.
When you're hunting for stories, what are the particular elements that catch your attention more than others?
44 increasingly aggro emails from desperate PR people (NOT!). I like stories that showcase company growth and successes, mainly, be that funding, key clients, expansion, M&A etc. This industry needs as many success stories as possible in order to attract more investment, more partnerships, more interest etc. Beyond that I'm looking for things we see less of – yet another payments business, yet another social media network, etc, don't really float my boat unless they especially need to. Are you doing something different to everyone else to solve a particular problem? Cool. Add a bit of traction and a bit of investment to that and you're even better off.
Why is African business so unique and what makes it so exciting to report on?
Where to begin! Simply put, the size of the challenges that need solving, the huge opportunities for both social impact and return on investment that solving these challenges can create, and the entrepreneurial skill/spirit that exists, create a wonderful cocktail. Add to that a growing talent pool and increasing funding, and we have a very exciting situation indeed. I am also "old" enough to remember where we came from. I attended events at the iHub in 2010, I reported with excitement on $1.5m ACQUISITIONS (Weza Tele) in 2015, at Disrupt Africa we released reports that said total African funding for, say, 2016, was $130m. The growth we have seen since then is unbelievable ($1bn in the first two months of 2022!), and we are only seeing quicker development. This is a great time to be active in African tech.
And do you have any particular love for any sectors or industries?
Sounds boring, but you can't look beyond fintech. Fintech creates the rails for everything else. We've seen it with mobile money, allowing PAYG solar companies to provide power to rural people, and similar scenarios will be played out in a variety of areas. Allow people to make and receive payments, and you allow them to access credit, loans and insurance, and everything flows from there. Agri, health, education, logistics… they are all pivotal in Africa, and we will see more and more growth in other areas, but I'm afraid it all flows from fintech. Sort out the fundamentals, and anything is possible.
Be it someone looking to start a business, join a business, or invest in a business, there are more opportunities in Africa right now than anywhere else
How can we encourage more people to join the writing community and dedicate their energy to telling stories about African tech and business?
Pay! Same as anywhere else in the world, the trouble with attracting the best people into journalism is the cash. The best people, if motivated by money, are going to become lawyers or accountants and the challenge is getting even greater these days, with even the most established media organisations struggling to figure out the best business models, and when you apply those challenges to African tech journalism then they become even more pronounced. At Disrupt Africa I think we have found a model that works, but it is not one that is ever going to become a great employer, especially of actual journalists. This is a challenge the industry has to face up to, but I don't think there is an answer right now beyond hoping to attract people that are passionate about the subject matter, and creative enough to find ways of monetising beyond the traditional "per word, per article" routes. In short, I'm not optimistic.
Why is it important that people around the world get to hear about young, growing companies on the continent?
Africa is the future. Cliche, I know, but check population age, size, GDP growth, etc, and it's just a fact. It is the "final frontier" for VC, corporate engagement, etc, whereas the saturation limit has been reached elsewhere, in Africa we still see the opportunity for growth and RoI. Be it someone looking to start a business, join a business, or invest in a business, there are more opportunities in Africa right now than anywhere else and increasingly the infrastructure/funding/skillsets to support these ambitions.