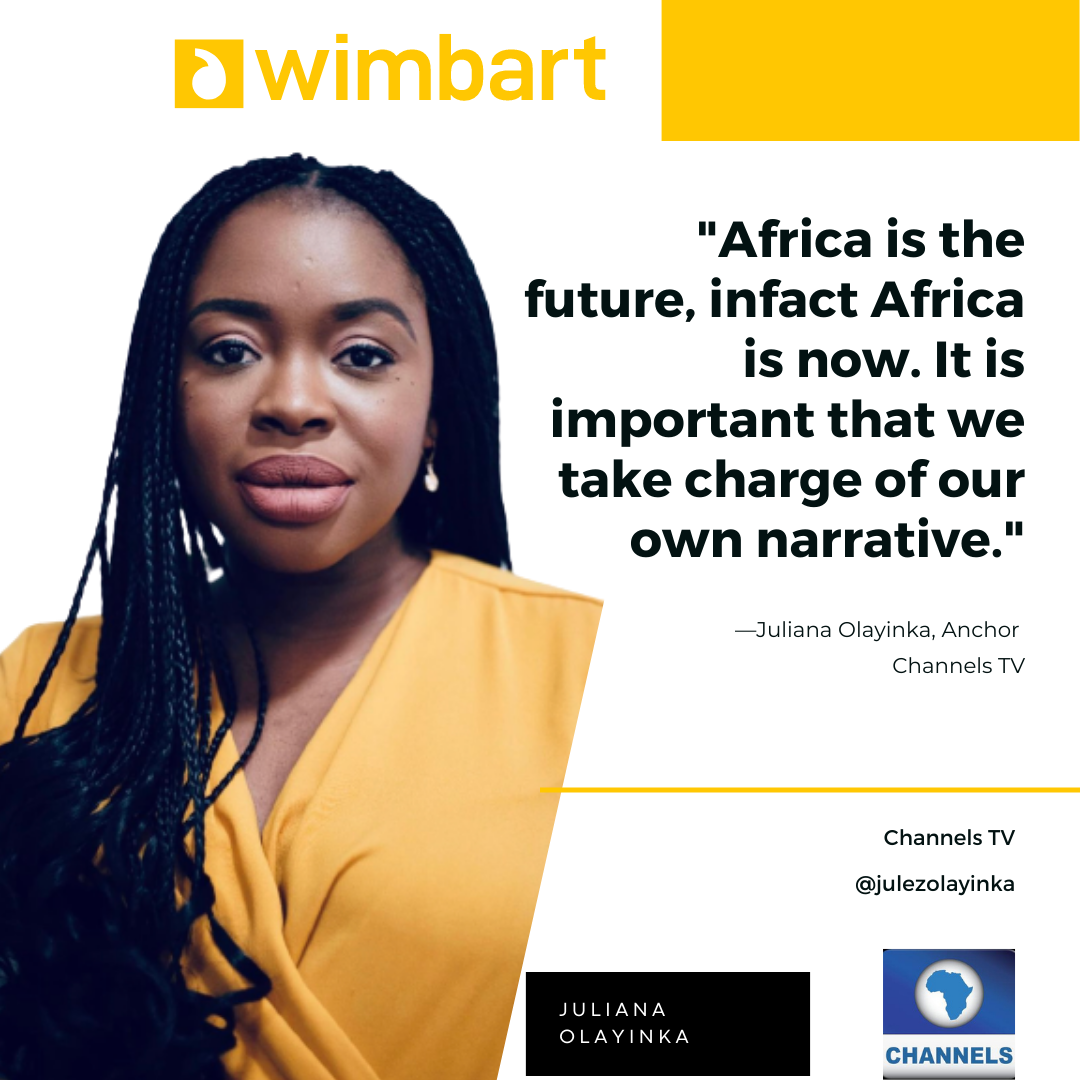 Juliana Olayinka, Channels TV
In our latest conversation with a leading journalist focussed on telling stories of African innovation, broadcaster Juliana Olayinka, from ChannelsTV, explains how her childhood love of reading and curiosity about storytelling led her into journalism. She also tells us about why she feels Africa is the future and why it's important Africans take charge of their own narrative.
As a journalist you are able to escape the reality of your life, your privileges and your struggles to shine a light on others.
What made you decide to go into journalism and specifically broadcast?
Growing up I can remember having a keen interest in watching long form documentaries. I was fascinated with the way they were produced, I wanted to know more about how the story was discovered and I wondered how and why the narrator left a lasting impression on me. Before I was a teenager I also enjoyed reading books from authors such as R.L Stine, Judy Blume and Roald Dahl. Not just 1 or 2 books, if I liked you as an author I would read your entire collection. Thinking about those stories I read growing up brings back a ton of delightful memories. I also loved writing short, creative stories. Reading and writing was escapism for me and I developed an urge to explore the other side of a story.
For one reason or another when I finished college at the age of 18 I did not go straight to University. I worked full time for almost two years. As destiny would have it, it was only when I happened to look through a university prospectus while visiting a friend's house that I realised my childhood career ambition was to become a Journalist. This was the first time I was able to see in black and white what I wanted to do for the rest of my life. I enrolled onto the BA Journalism course at The London College of Communications at the University of the Arts London and the rest is history as they say.
As a journalist you are able to escape the reality of your life, your privileges and your struggles to shine a light on others.
What would you be doing if you weren't a journalist?
If I wasn't a journalist I would probably be working in politics or social enterprise as I believe I am here to serve others. Bringing attention to the plight of a community as a journalist is one thing, having the tools to change the trajectory of that community for the better is another. Fortunately journalism and politics are closely tied and I take great pleasure in following up on stories that matter to me.
Which sectors are currently generating the most interesting stories or impact at the moment and why do you think that is?
Tough question, as impact can be altered by region, gender, demographic and socio economic status but for me personally the top three topics that I am most interested in right now is the climate emergency, agritech solutions and education for all.
Prior to COP26 I can shamefully admit that I didn't really pay much attention to the climate debate but now that I have conducted my own research I do worry about the future of our planet. We have become incredibly wasteful in the west and the consequences are overwhelmingly impacting the livelihoods of people living in the global south. Extreme weather patterns, severe drought, famine and flooding are the results of the world's wasteful, greedy behaviour. I have promised myself to do more personally, small things like turning off lights, not wasting food, not buying new clothes constantly and shining a light on the issue as much as possible.
The climate emergency feeds into agriculture and the pressing need for Africa to feed itself. I am encouraged by the influx of Agritech solution players that have entered the African market. I recently had the pleasure of interviewing Uka Eje the CEO and CO founder of ThriveAgric. The firm recently announced that it had raised $56.4 million in debt from institutional investors to grow its farmer base and their outputs servicing local and international markets. There are many companies like ThriveAgric working in Africa. Given the UN forecast of significant population expansion on the continent, agriculture will become a crucial sector and all actors must be fully supported by the government. The importance of education doesn't need to be explained but needs significant investment. Millions of children across the world have suffered as a result of global lockdowns and their plight needs to be tackled to ensure the future of this planet.
What makes a great interview and how can interviewees best tell their stories?
I hate awkward silences before an interview so I try my best to loosen up my guests. One of the ways to make that interaction more natural is to ensure you conduct your research first. This is fundamental. I also try not to come across as too self important and aggressive or combative during a discussion. I conduct interviews to learn, most importantly I want my viewers to learn. I listen attentively and I don't pretend to know more about the topic than the expert I am speaking with.
Our reporting must be balanced therefore these inspiring, thought provoking, exciting narratives deserve to be heard. They deserve to be heard most especially in Africa.
What makes African technology such a unique and exciting area to report on?
Despite social media platforms making news accessible to all, I find that people across the world are not aware of how amazing and innovative our tech gurus are. I believe I am in such a privileged position to be able to share these growth stories to viewers across the world. Their dominance and success is audacious, courageous and provides hope that the continent will reach our development ambitions.
Why is it important that people around the world get to hear about young, growing companies on the African continent?
Africa is the future, infact Africa is now. It is important that we take charge of our own narrative. Yes we must call the government to account, yes we must demand for change but this should not constantly and continuously dominate our news coverage. Our reporting must be balanced therefore these inspiring, thought provoking, exciting narratives deserve to be heard. They deserve to be heard most especially in Africa.
How can we all contribute to make broadcast journalism better and encourage more reporters to dedicate energy to telling the amazing stories of African innovation?
Find an area that works for you and develop your story telling techniques. There is plenty of junk available on the internet but the good stories can be seen from a mile away. For reputation and longevity my advice will always be to study your craft and to keep studying.
What are some of the ways to become a great journalist?
Read stories, listen to podcasts, watch the news and interact with your network. Identify a journalist you admire and watch how they work. Over time you will find the confidence to develop your own voice, your own opinions and your own platform.