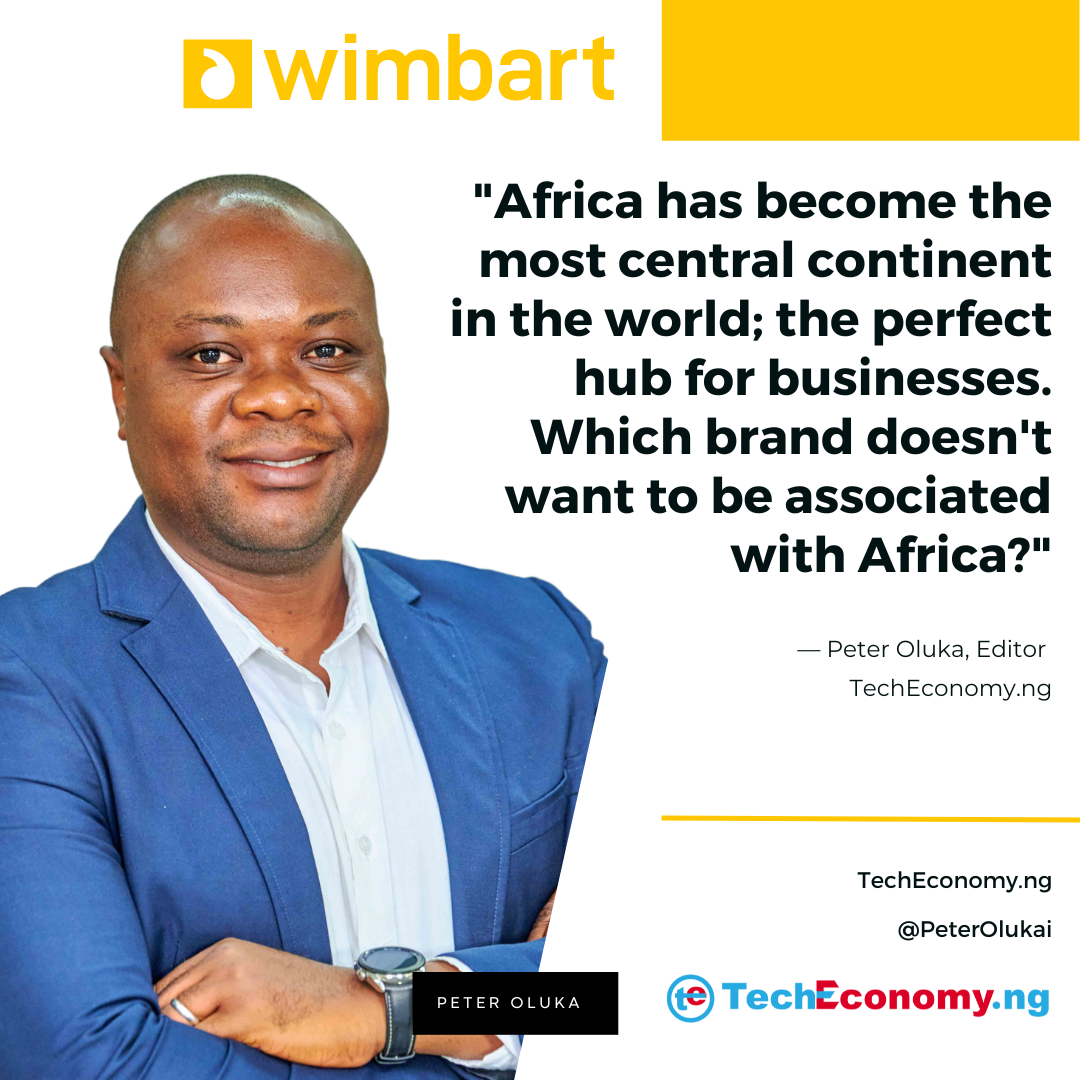 Peter Oluka, TechEconomy
We spoke with Peter Oluka, Editor of TechEconomy who revealed his passion for fact-finding, ideas and events, being able to express these interests through writing. This love has ultimately led him to pursue his career to become an accomplished journalist.
He also highlights that although there are challenges present on the continent, Africa is also a top option for business ventures.
What led you into journalism, and what would you be doing if you weren't a journalist?
I have always had an interest in 'knowing more' about something; that is my passion for facts-findings and ideas behind people's actions, events and occurrences. In other words, I have always found a certain satisfaction in writing and knew I wanted to make a career in journalism.
This passion became even more compelling as I joined a writing and debating club in my secondary school (college) days which exposed me to fashioning out more creative ways of challenging the quantum of world inadequacies.
During my diploma days at the Institute of Management and Technology (IMT), Enugu, I was elected the President of the 'Print Students' (2007-2008), a student group for campus journalists. Also, during my national youth service year (2008-2009), I was the editor of Zamfara Kopa, a magazine for the Zamfara State NYSC.
Now, as a practising journalist, it has even become a burden to tell stories about businesses using Africa as a case study.
If I weren't a journalist, I would be a lawyer. Yes, I abhor injustice. And you see, journalism and Law are like Siamese twins; while the former focuses on the larger society, the latter seeks to protect the rights of the individual citizen and promotes the cause of justice while seeking to uphold human rights and fundamental freedoms.
It is so exciting to report these businesses because over time we have seen Africa as a unique gift to entrepreneurship.
When you're researching stories, what compels you to work on sharing a particular story with your audience? Any hot trends we should look out for in the coming months?
I consider a multiplicity of influential factors when researching stories. The media have proved not only indispensable but also sensitive, pervasive, intrusive and compelling. I consider elements of thought; the point of view, implications and consequences, purpose/objectives, questions at issues, information/relevance, interpretations and inferences, concepts and assumptions.
The daily complexities of society, increase in global interdependence, global competitiveness and industrialization coupled with man's quest to be consistently abreast of societal developments and the dynamism of science and technology, amongst other factors, are top on the mind for me when researching stories. For instance, a startup founder in Lagos is seeking limitless opportunities and would appreciate it if he is exposed to business operations in Nairobi, J'Borg, London, or New York City. Therefore, as I am communicating to a majorly African audience, I feel obliged to make my stories relevant to the global citizen.
For hot trends, I believe that discussions around Artificial Intelligence will linger more with us. AI will become more prevalent with natural language processing and machine learning advancement. Artificial intelligence can better understand us and perform more complex tasks using this technology.
It is estimated that 5G will revolutionize the way we live and work in the future. It is already doing that.
In Nigeria, Blockchain Technology will take a new turn. The immediate past government developed a National Blockchain Policy. Although most people think of blockchain technology in relation to cryptocurrencies such as Bitcoin, the technology actually offers security that is useful in many other ways. While the Central Bank of Nigeria still restricts cryptocurrency, the world should expect startups (in Nigeria) to start exploring different prospects of blockchain technology to strengthen Financial Inclusion (FI), International Trade and Supply Chain efficiency, harnessing the power of Smart Contracts, etc.
So, as a new government is sworn-in in Nigeria, the newly passed Startup Act will be put to test.
In Africa, we have to look at 'Digital Disruptions during Elections'. Paradigm Initiative, a pan-African civil society organisation, released a statement in February 2023 therein they warned about growing trends of internet disruptions during general elections in Africa. This was a few weeks before Nigeria's presidential election. We are all witnesses of the controversies it has generated. In 2023, presidential elections are expected in Gabon, Liberia, Libya, Madagascar, Sierra Leone, South Sudan, Sudan and Zimbabwe. Why is this a hot trend? Over the last two years, the internet has been shut down by the governments of the Republic of the Congo, Niger, Uganda and Zambia during election periods. The government usually toes this path on the guise of preventing the spread of misinformation, countering dangerous speech, possible violence or any other excuse. Still, we know that the greatest effects are felt by the citizens, startups, or SMEs who depend on the internet to carry out their legitimate businesses.
We bemoan the growing collapse of startups and small businesses on the continent, especially post-COVID-19, yet snuff out life out of the remaining ones through dictatorship and draconic government policies.
On a global scale, Elon Musk's Neuralink has secured the United States Food and Drug Administration's (FDA's) approval for the study of Brain Implants in Humans. Neuralink is one of many groups working on linking the nervous system to computers, efforts aimed at helping treat brain disorders, overcoming brain injuries and other applications. This is an interesting development that the media will be following step by step to see how it develops further.
Why is African business so unique and what makes it so exciting to report on?
Thanks for this question. I will attempt to answer it from the African Startups' perspective. First, African businesses are unique because Africa itself is unique. A continent of 54 countries with at least 2,000 different languages and each of them has different dialects. In other words, if you wrote a book and translated into 2,000 languages (in Africa) there must be a unique reader of your work!
Africa has become the most central continent in the world; the perfect hub for businesses. Which brand doesn't want to be associated with Africa? Yes, there are peculiar issues like misgovernment and lack of adequate leadership, however, these give rise to unique business opportunities; from e-commerce to e-Learning, e-health, e-mobility, smart agriculture, Fintech, etc. Africa is also the most profitable region in the world, making it a top option for business ventures. Look at what M-Pesa has given the world, the Flutterwaves of this world, Interswitch, Zuri Health, Mara, Kobo360, PayStack, Ukheshe Technologies, Co-Creation Hub, Uniccon Group, etc. So, we at TechEconomy feel excited about what is coming from Africa. I mean Rwanda has become a great destination for startups. From Morocco, Egypt to Kenya, Rwanda, Nigeria, South Africa, to other emerging startup cities, Africa is the new frontier for businesses.
The pace of concept adoption is faster in Africa than in any other region in the world. This is definitely an important factor for any business. Disposable income is also on the rise on the Continent. This coupled with the middle class making up a third of Africa's population, presents good opportunities for businesses to take part in. Africa's Internet Economy is growing and has the potential to reach 5.2% of the continent's GDP, making up a $180 billion USD stake in the near future.
It is so exciting to report these businesses because over time we have seen Africa as a unique gift to entrepreneurship.
When done properly, telling a compelling story can be your startup's 'superpower'. It is important to drive home that message for budding entrepreneurs to learn.
Which sectors or industries do you like to cover most and why?
At TechEconomy we tilt our light on what is new in technology, business and the economy in general. The name is unique and it offers us a wide range of opportunities to reflect on what matters to our readers across industries, how it works and the benefits. In other words, we are limitless so to say. There is technology in farming, as there is technology in transportation, manufacturing, racing; name that industry.
However, you can rely on TechEconomy for the latest trends in telecoms, startups, finance, travel/postal, media; tech-influencers. Users look forward to our hands-on reviews, buying guides, and while learning from informative videos, apps news/reviews, research-based articles, and editorials.
Why is it important that people around the world get to hear about young, growing companies on the continent?
First, the benefits of storytelling for startups cannot be equated. When done properly, telling a compelling story can be your startup's 'superpower'. It is important to drive home that message for budding entrepreneurs to learn.
On the other hand, there is no way an investor (or a Venture Capitalist) in New York, Israel, London, Germany or France would know about what is happening in the African startup ecosystem if the stories are not told.
Stories also help brands, especially startups to stand out in a crowded marketplace and connect with potential customers on a deeper level.
Storytelling is a subtle means to sell or market a brand, individual or continent in this context.
By using relatable characters, relaying anecdotes, or narrating a journey, you can break down complex information into digestible, engaging narratives that resonate with the outside world. Africa is not about failed systems, corruption or fraud. We are resilient, hard-working and smart people who are contributing positively to the development of the world.
It is also important that a startup should make a budget available for media and publicity. As I tell people, journalism is relatively free but publicity is expensive. I must salute the courage of Agencies like Wimbart for your tenacity and consistency in helping to tell African startups' story.
The truth is, Africa can't afford to continue to wink in the dark in this dispensation.
How can we encourage more people to join the writing community and dedicate their energy to telling stories about African tech and business?
Well, I think we need to remind our people that writing can be a real job. We need more creative writers who can observe and digest trends. People of character and resoluteness.
There is no action without reaction. We are not saying Africa is in a state of utopia. We need more writers to understand when to critique and when to validate.
We need to encourage the existing writers to sharpen their 'powers of observation by journaling' through training and exposure. When smartphone brands are releasing their gadgets our counterparts in the United States, China, etc., take hold of the gadget; use it. So, when they are reviewing it, they are doing so 'out of user experience', not something written from 'hand-outs'. That narrative needs to change. Experience, they say, is a better teacher.
So, businesses that want their stories 'told' to the world should avail writers of the platform for first-hand knowledge about their business operations and/or features of the product.
There is a need for training and retraining of writers and exposure to international events where they meet other writers for cross-fertilization of ideas.