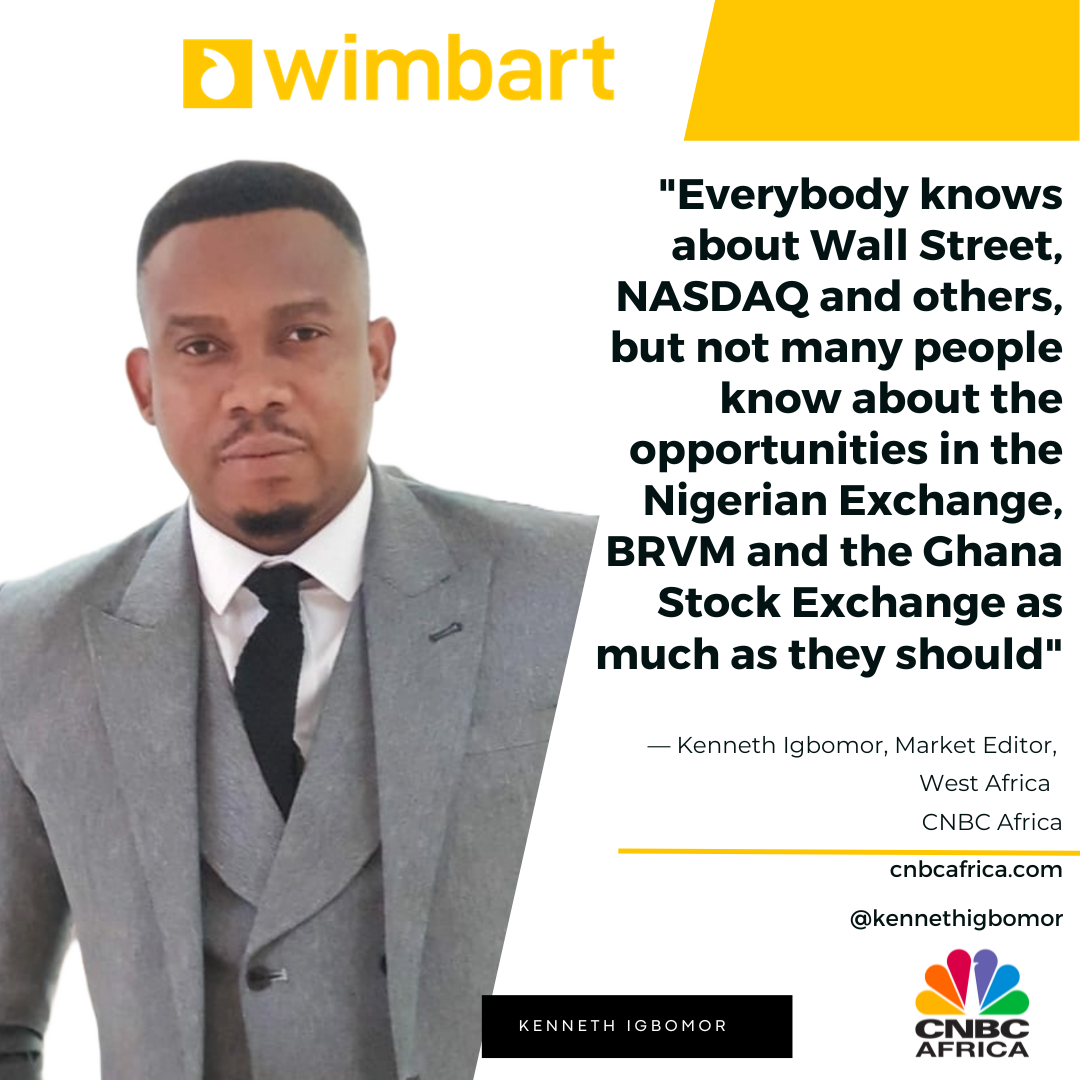 Kenneth Igbomor, CNBC Africa
As an African, owning the narrative of various stories continues to speak for the huge potential of the continent. This week, we feature Kenneth Igbomor, Market Editor for CNBC Africa, a consumer news and business channel, who shares how the pursuit of his passions enabled him to become the storyteller he is today.
What led you into the journalism world and what would you be doing if you weren't a journalist?
Curiosity was one of the first things that got me into journalism. Quite early on in my life, I was exposed to storytelling. In primary school, we would always write creative stories so there were parts of me in my development stages that were always keen on telling stories.
However, in my professional development. I studied Agric Economics and have a Masters in Media Communications, this led to a natural spin for me. However, if I were not doing journalism, I probably would have been hosting a TV show (which I used to do previously with a few of my friends called 'We run the game' with Etop Ipke from Autochek in my early twenties which ran for two seasons). Back then, I wasn't really keen on being in front of the camera but rather behind the scenes.
As much as we Africans have been telling these stories for decades, there still needs to be more hands on deck to be able to tell more of these exciting stories about Africa.
When you're researching stories, what compels you to work on sharing a particular story with your audience? Any hot trends we should look out for in the coming months?
The things we look out for are mostly based on impact. We look for stories that have an impact in different ways:
We are very pro-Africa and look for stories that have a rising African narrative. We like to inform our audience of Africa's rising themes.
We are also very big on financial literacy, this includes helping people build a better relationship and understanding of their money, grow wealth and help people to explore this. Whilst also helping the continent to have richer Africans.
There is quite a lot happening in the tech space, the start-up bill in Nigeria just came out. At the moment the tech ecosystem is quite deep, but it will definitely get even deeper where you will soon see more innovation play through and you will see more ideas being tested and proof of concepts being put out. I'm sure you will also see different companies doing different things within their fields.
I would also say, watch out for the trade finance space because the AfCFTA is a big deal and there is a lot of funding currently going in that direction to help medium and small-scale enterprises to scale trade across the continent. We are seeing innovation play out in the payments space and fintechs are also now getting on board to make cross-border payments work out better so this is definitely a huge thing to watch out for on the continent.
Why is African business so unique and what makes it so exciting to report on?
I would personally say that it is an amazing opportunity to be able to report on Africa, there are emerging industries playing out here that are largely untapped. There are also a lot of stories that have a huge scope for growth. It is an amazing spread to look out for – from tech, e-mobility, agriculture, fintech and many more. To get all of that mixed in and being able to weave out the story puts Africa in a positive light because the rest of the world does not know about Africa as much as they should. As much as we Africans have been telling these stories for decades, there still needs to be more hands on deck to be able to tell more of these exciting stories about Africa.
We often speak about the talent pool in the tech space, but there is a whole lot of them that started out in Africa.
Which sectors or industries do you like to cover most and why?
The tech space is immense, from talking about a company that is trying to close the gap in the global genomic market and getting more African representation in the field of pharmaceutical research, to fintechs who are trying to improve things around the payment space, to the ones who are being creative in the agricultural space which I am very passionate about. You would see that there is a huge mix in the tech space right now.
Tech is big on my priority; since I became the markets editor at CNBC Africa in 2017, every year, tech has been one of my top priority sectors to watch on the platform.
Also, the stock market in Nigeria and the larger West Africa. I feel there is a huge leap in financial interest in this region that needs to happen. Everybody knows about Wall Street and NASDAQ and others, but not many people know about the Nigerian Stock Exchange, BRVM and the Ghana Stock Exchange as much as they should.. There are a lot of opportunities for Nigerians that are participating in this economy who know these brands better than outsiders. They can use this local knowledge to make money from these markets, outsiders don't really have that knowledge and I think these are some of the things that I am very passionate about. Helping people to understand that they can actually make money here on the continent, from the stock market and build wealth.
I also like covering the Venture Capital space as there are huge stories playing out here. Especially in 2022. If you track the Africa Venture Capital and Private Equity Space you will see that Africa is actually going against the odds. Whilst we are seeing private venture capital slowdown in the rest of the world, we are seeing the opposite happening here in Africa. We are seeing people invest their personal funds in new ideas. If there is family wealth or business that you are exposed to, you can put that into some ideas that you think can be profitable in Nigeria. We see quite a lot of that happening, especially from international investors putting their personal funds into African businesses. So I think that is a huge space and it is something that I like covering because it speaks to the potential here in Africa.
Why is it important that people around the world get to hear about young, growing companies on the continent?
For young growing companies on the continent, there is a huge talent pool here in Africa that I think is not addressed as much. Because we often speak about the talent pool in the tech space, but there is a whole lot of them that started out in Africa. Playing out in Africa where you see them doing big things elsewhere in the world but they all started out here in Africa. And there is still a residue of that pool still here in Africa who can do amazing things. So we need to look for ways to harness that pool of young minds who are on the high end, who have high skills, and are doing big things.
I think there are not enough of those stories that are going out and I think it is one of the main reasons why I think the youth space in Africa or tech and other industries should be explored.
How can we encourage more people to join the journalism community and dedicate their energy to telling stories about African tech and business?
For one, I think there needs to be more role models to help people to know that there are amazing people telling incredible stories in Africa. Young people can already see the individuals who are already trailblazing and putting in the work, as well as telling very exciting stories at a global, local and regional level.
Many people in their countries would not understand that there is a huge scope of stories that are available on the continent from Nigeria, Ghana and Cote D'Ivoire, and so on. When you think of journalism with a wider scope in mind, it exposes you to the opportunity that there is.
For me, I also look at African positivity and having Africans tell African stories because no one can tell African stories better than an African. The fact that you've grown up in Africa, with the unique insight makes you the best person to tell that story and gives you a certain edge over any other person. When you have journalists from outside, telling African stories, there would always be something missing. I think that there should be more encouragement in that space to get more young people to play in the game because they have that natural insight..
Anything else, you would like to add?
I just think Africa is an amazing space and more people should recognise this. Before I was employed at CNBC Africa, I had an offer from a major telecom company that was offering me almost three times the salary I was earning at CNBC Africa at the time I was starting. However, I believe my drive for journalism helped me to forgo a lot of that and I look back and this is something that I have never regretted.
If a lot of people learn to look inwards and follow their passions more, they would be surprised at where that journey is going to lead.