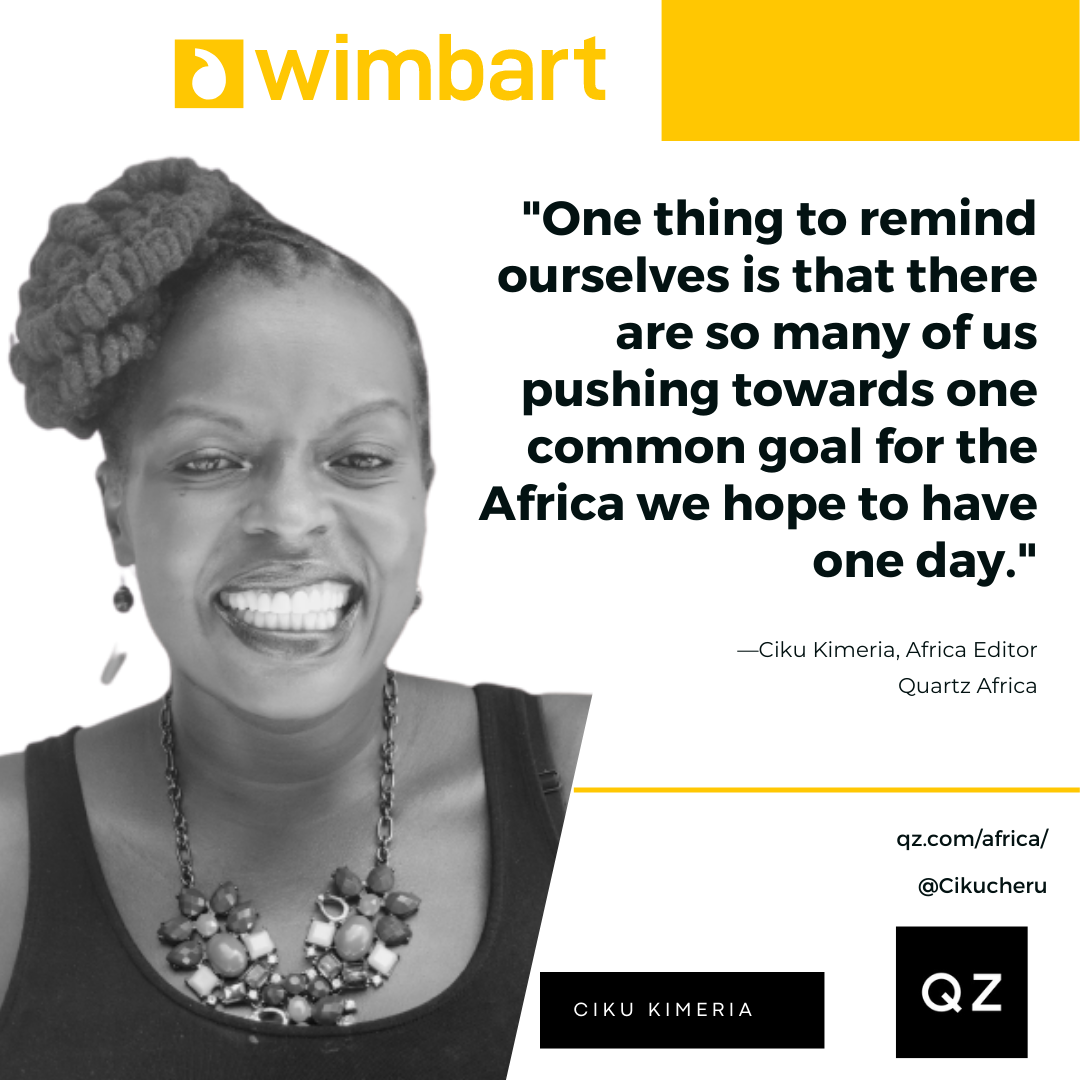 Ciku Kimeria, Quartz Africa
Never has it been more important to own the stories of African brilliance and innovation in the world media. In our spotlight this week is Ciku Kimeria, Africa Editor, Quartz Africa, who shares her journey from consulting to her accidental discovery of a love of writing.
What led you into journalism, and what would you be doing if you weren't a journalist?
That's a super interesting question, because I consider myself to be an accidental journalist. To be honest, I have only considered myself to be a journalist within the past year or two. A bit of background on that. I studied Finance and Urban planning at MIT in the US, and then I moved back home to Nairobi. Then I worked as a strategy consultant for 6 years, I then had an existential crisis and I wondered what I would do next and what my calling was, as I was no longer happy in consulting. I wasn't sure what would make me happy and what I came here to do. In the middle of my existential crisis, I had bad insomnia and I wrote my first novel – Of Goats and Poisoned Oranges. That's when I realised how much I loved writing. I've always written, but I guess before Chimamanda Adichie became a global phenomenon as a young African writer, very few people had thought about becoming a writer as a career. It became clear to me that I have always loved writing and telling stories. I wanted to see if there was a way that I could craft my career from that.
Luckily, my employer at the time, Dalberg Consulting, were looking for a Comms manager, so I moved from a strategy consultant to taking on the role of Africa Communications Manager. I had taken on a part-time role, which was great because in that role I worked 3 days a week and I was able to go to literature festivals other times, I was able to focus more on writing. In 2016, I stumbled across an article from Quartz about two female Congolese robotic engineers who had made traffic robots that managed the traffic in Kinshasa. That was the first time I saw a positive news article in a global media publication on the DRC. Then I decided I wanted to freelance for Quartz, I kept on pitching stories to them and finally that year I wrote my first story for them on the challenges of travelling with an African passport in Africa. At that time, the African Development Bank had put out a report saying that it is easier to travel in Africa if you have a North American/European passport and I was experiencing this as I was trying to backpack solo from Burkina Faso, Ivory Coast, Benin and Togo and the process of getting a visa was such a headache. So, I looked into this and that was my first article I wrote for Quartz and fast forward to today, I've written maybe 40 or 50 articles in that time for Quartz. But, the first article I wrote for Quartz opened up doors.
I moved to Dakar, Senegal in mid 2016 and I started freelancing for different publications, even though I was still in my part time job, then when I left in 2018, I set up my own business as a communications consultant advising different international development institutions and ran that for a few years, whilst still writing for a few publications. Which is why I didn't consider myself to be a journalist until last year. As much as I had written tens of articles for different publications, in addition to my own travel blog – Thekenyanexplorer, the fact that I had not worked in a newsroom or studied journalism, made me feel a little bit like an impostor.
Now I fully own it. I am a journalist, but also I wear very many other hats – none of which cancels out the other.
If I wasn't a journalist, I would still probably be writing stories. I released my second novel, Dance of the Monkeys, at the end of 2020. Writing mystery novels is my creative outlet.
Everywhere is so different and every single place you go to, you learn something new so for me I see this as an opportunity, as we can discover and learn so much and it's always exciting.
When you're researching stories, what compels you to work on sharing a particular story with your audience? Any hot trends we should look out for in the coming months?
I have to put on two different hats for this – there is Ciku 'The Writer' and Ciku 'The Editor'. As Quartz Africa Editor, I focus more on giving guidance to journalists on if a story sounds interesting or compelling. As an editor, what I like seeing in pitches is uniqueness. One of the main things I ask myself when someone pitches a story is 'would I read this?', 'does the headline compel me to read more?'. At Quartz we focus mainly on technology, business and innovation as well as other things outside of this scope. But, as a big publication, I have to ask myself for every story 'what is the business angle?'. For example when Squid Game came out, it was a global phenomenon and the way Quartz covered this was very interesting because it wasn't about how many people had watched it on Netflix, but how it is a global phenomenon, tying it into what happened in the 1980's with the Korean economy and how that could make a situation like what was portrayed in the series so compelling and and relatable. So rather than just being an article on Squid Games, it was also an article that explored the history of Korea, its business and economy and the effect on the population. As an editor, I look at a story and what the business angle.
When it comes to startups, fintech is alway going to be huge, but I also feel as if Crypto is one of those sectors that has a huge potential for where it can go on the continent. I feel that in a few years we will look at it the same way we look at the mobile/digital revolution, we will feel as if African leapfrogged because of this. Some examples are Nigeria, even with the crypto ban, Nigeria was still dominating in terms of the growth of peer to peer exchanges, this was also the same for Kenya and was growing rapidly. Africa has a huge young population, and so are willing to be more curious. So crypto is the type of space where people can find their niche. I'm interested in finding out who develops within the next few years.
Why is African business so unique and what makes it so exciting to report on?
What makes it so unique for me is that there is always something new to learn. There are 54 countries, I've travelled to 55 countries globally and 23 in Africa. Everywhere is so different and every single place you go to, you learn something new, so for me I see this as an opportunity, as we can discover and learn so much and it's always exciting.
When I get a pitch from someone in Harare on a particular topic or startup or the next day I'll get a pitch from someone in Accra. It's just interesting because there is so much more to be discovered which is why it's so interesting.
I love covering it because Quartz has always looked at the continent as a place of opportunity. Many other publications are now trying to move away from the sad Africa story. But I'm happy that as a publication, we've always looked at the continent as a place of innovation, opportunity and growth. I just love it. We are not just saying that 'Africa is amazing', we are bringing depth to the discussion.
Which sectors or industries do you like to cover most and why?
Okay, so this is where I would put on my journalistic hat. If I was writing all the time, I would most likely be writing about Arts, Culture and Travel which is where I tend to gravitate to.
As Africans we have to value our stories because on the continent, you find so many people doing interesting things and transforming lives but they don't think their stories are of value. I feel like the most interesting stories are coming from the continent, including stories of contemporary times.
Why is it important that people around the world get to hear about young, growing companies on the continent?
Quartz Africa has a new membership product called 'the member brief'. In each edition, we focus on a sector and a different startup. One might be looking at a robotics company in Ethiopia and how robotics is in its early day in Africa with a case study. Another might be precision medicine and genetics and we might focus on 54Gene in Nigeria. So each newsletter is a different focus with a different type of company.
For me, I think it's so important for people to read these stories if for the average person to know that there is soo much energy and momentum that's happening in different parts of the continent and for anyone, even if its a startup founder in these countries to realise that even in these other countries, there are different challenges but there are also a lot other Africans that are looking for opportunity and how they are approaching it. For young Africans on the continent who may go into the business or startup sector, it's really motivational for them to see other stories of other Africans who have done it.
How can we encourage more people to join the writing community and dedicate their energy to telling stories about African tech and business?
As Africans we have to value our stories because on the continent, you find so many people doing interesting things and transforming lives but they don't think their stories are of value. I feel like the most interesting stories are coming from the continent, including stories of contemporary times.
Everyone has a story but you have to try and think of different ways of telling your story. That doesn't mean everyone has to write, for some people Tiktok might be their medium or Instagram where they are showcasing a country's food and culture. So it's not all writing but I think that we should first value our stories including stories of contemporary African life. The life that any of us are living is interesting and different, a hundred or two hundred years from now it would be good if future generations for example could look and see documented stories about Accra from someone in Ghana.
For media professionals in the field, I feel like right now is the time where you can almost chart your own career. Before, if you were a reporter or journalist, you had to get a job within a newsroom but right now there seems to be more newsrooms that are looking for freelancers. I entered the industry by doing freelancing so I feel like you as a journalist/writer, decide what stories you want to tell and keep telling them. Even if you don't yet have an outlet, have your own blog and use it to tell stories. I always get alot of pitches from new writers and once you enter the freelance market, your opportunities just keep on rising. Be okay with crafting and a path that's not the typical one.
Is there anything else you would like to share or add?
The last big thing I'll add is that I am a writer/editor but I think that all of us have our own role to play in African storytelling. It's easier to talk about the creatives (photographers, film makers), but the role you are playing is about crafting the Africa you want to see. The times I went to a writing festival, the energy I got from other young Africans who have been in different African countries. One thing to remind ourselves is that there are so many of us pushing towards one common goal for the Africa we hope to have one day.
My novels are available on Amazon: Dance of the Monkeys, Of goats and poisoned oranges