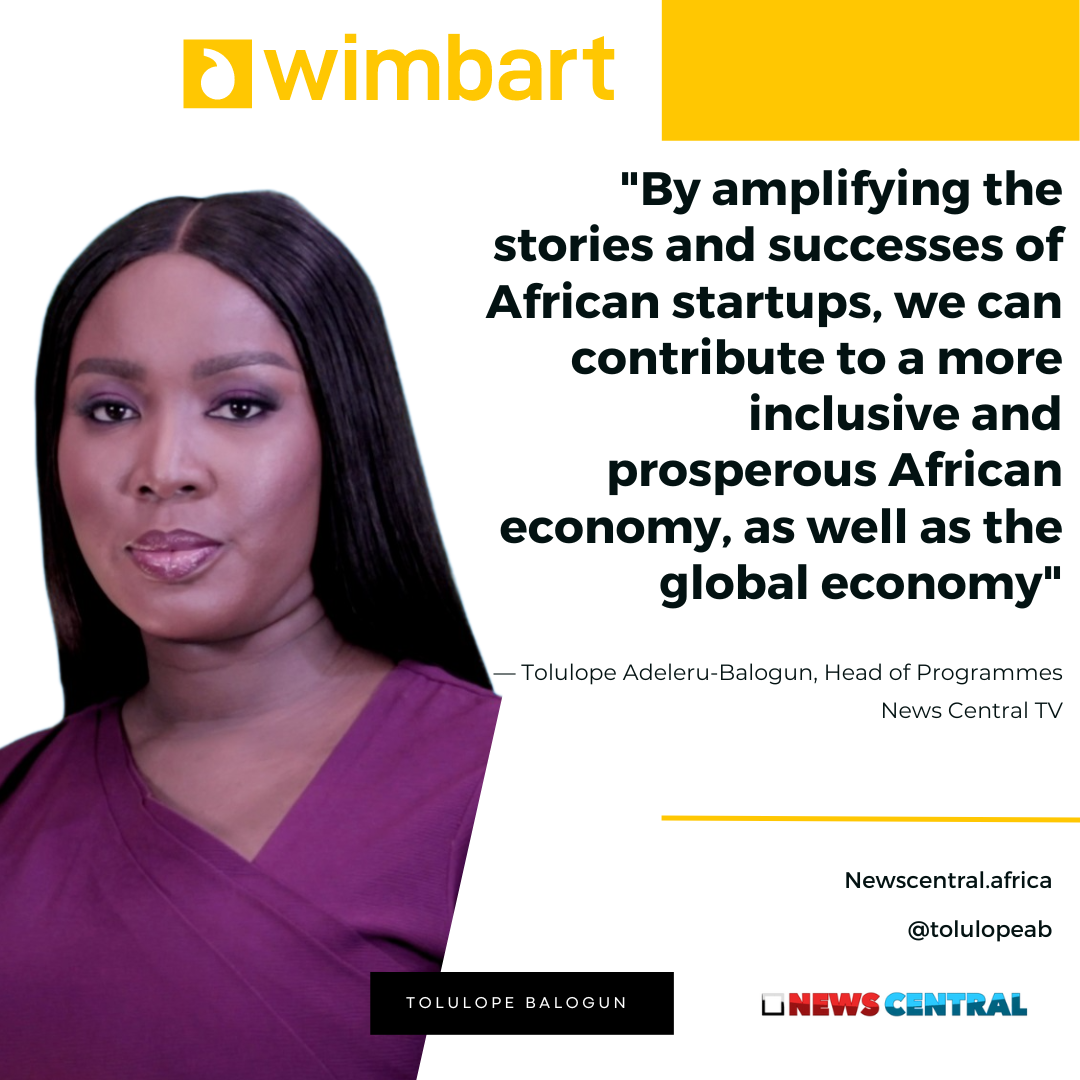 Tolulope Adeleru-Balogun, News Central TV
Our spotlight this week is on Tolulope Adeleru-Balogun, Head of Programmes at News Central TV who took the time to speak with Wimbart about her unintended journey into journalism. Where her initial obsession with the legal sector led her to a newfound calling in mass communication and ultimately a career in journalism.
What led you into journalism, and what would you be doing if you weren't a journalist?
My journey into journalism was actually by accident. I grew up obsessed with legal shows like Perry Mason. I used to set up my toys and drag my sisters into being part of my play courtroom. I would be the judge, the prosecutor, the defense, and even the defendant and witnesses. I was part of Model UN and Mock Trial when I was in high school. So I felt my path to being a lawyer was set. But then my family decided to return to Nigeria from the US. I was still bent on studying law. But the Nigerian education system had other plans. I applied to one of the country's premiere universities for law, but to date, I have not received a reply to my transcript and application.
My next option was a private university, unfortunately, because they were a new university, they didn't have law. What was available to me was English. Ok, so let me do English and get back to the US and to law school. When my acceptance letter came, it read Human Communication. I had never heard of that. It was eventually changed to Mass Communication. But within the first few weeks of lectures, it felt like I had planned media and journalism my whole life. It just fit and I haven't looked back since. I realized that the things that were driving me to take up a career in law were also present in journalism.
There is still a journey ahead of us, but the work is being done, and it's being done by us.
When you're researching stories, what compels you to work on sharing a particular story with your audience? Any hot trends we should look out for in the coming months?
This is an interesting one. It's interesting because to some extent media has changed with social media. There are times we take cues from what is trending and being discussed online so that we are plugged into what the audience or audiences want.
Beyond that, on a regular, for me, it's important that I connect the dots when it comes to stories and news. What does it mean for the everyday man or woman? How will this impact the quality of life, or one's ability to have a better life? What does it mean for small businesses and their owners and workers? It would surprise many people how many political stories have economic implications for our daily lives. Audiences have also become more diverse and news savvy. So they want news in different forms and we are also trying to serve different audiences.Know your audience, what are the issues that they care about? But I also use my experience of news to bring forth stories and issues that have gone under the radar.
Trends are somewhat harder to pinpoint these days, given how quickly they come about and how quickly they can fizzle out. But I'm keeping an eye out for the impact of AI on my industry, also the growth of data journalism and solutions journalism. More and more, audiences don't just want to hear about the problem, they want to know what's being done to solve the problem, so solutions journalism is something to watch out for, particularly for us here on the continent. I'm keeping my eye on trends in fake news, misinformation, and disinformation. That's why I'm proud to say that NewsCentral works with the continent's leading fact-checking organization, Africa Check on a weekly program, The Proof, that takes on these issues and looks to educate and empower the audience about fake news. There are so many more things to put in focus on when it comes to trends, there's also how to bring paid content into the picture, how audience and data insight will drive innovation, and even retaining audiences. There's a lot of work ahead of us.
Why is African business so unique and what makes it so exciting to report on?
African businesses are the place to be right now. Given Africa's youth demographic and the technology we are able to employ today, the changes that are happening in African business are swift and noticeable. There are so many people still in the informal sector with their businesses, and the opportunities for them to formalize and become much more are amazing. It may sound cliche, but with business, we really see African solutions to African problems, because there are contextual and localized details to the issues we face. Business, or even trade has a centuries-long history and the continent and I don't think we give ourselves enough credit for that history and for how far we've come as a continent. There is still a journey ahead of us, but the work is being done, and it's being done by us.
African business is unique because we have so many things going for us. A few reasons are: our population is young, growing, and urbanizing. There's also the potential and opportunities that come with increasing digital and mobile access. Another reason is the fact that the continent is industrializing and this is particularly important as we see the continent working to close its infrastructure gap. I also see what's being done to unleash our resources and agricultural wealth. There's also the diaspora aspect of this conversation and how we see some African countries directly appealing to the diaspora. There's also the expected progress and development that will come with the Single African Air Transport Market and how that will open up new pathways for travel, tourism and trade, as well as the African Continental Free Trade Area and where that can also take us. There's the growth of Fintech, Edutech and Healthtech, which are bridging the gap and bringing solutions directly to the people. It really is an exciting time to be covering business across Africa. This is also the time we are seeing what some have described as the new scramble for Africa. With shifting global dynamics, this is the time for Africa to take its place on the global stage. There is a need for our resources, our labour, and our brains. We need to make the most use of this time.
Africa must work for Africans. We must change perspectives and shift global dialogues when it comes to Africa
Which sectors or industries do you like to cover most and why?
I focus a lot on the fintech industry due to the growth of digital and mobile access. That's such a major game-changer for the continent. Besides closing the financial gap, there are some many business opportunities that exist with this space. It's not just fintech that is taking my attention. Healthtech and edutech are also bridging the gaps that remain for millions of Africans. I continue to focus on the informal sector. It employs millions and millions of Africans. But it is also largely underserved by governments that focus more on how to tax the sector that incorporates them and makes it easier for them to formalize.
Also, any sector that has a problem with value addition is on my list. Too much of what we produce leaves the continent in a raw state and comes back to us finish, with almost all the value added outside our shores. There's also Africa's creative industries that for the most part have grown without much government attention and help. And now that we are seeing successes, we're seeing government sit up in this area.
I'm also focused on women entrepreneurs, I know that's not a sector, but they are spread across sectors and industries. The continent cannot progress when half of its population is excluded in major ways. We cannot win this race with one hand behind our backs and that's what it is. Our growth and development are dependent on bringing more women into all the sectors, opening doors for them and giving them a seat at the table. But women are also not waiting for invitations nor permission, which is something I love to see.
Why is it important that people around the world get to hear about young, growing companies on the continent?
The narrative of Africa that has been set is one of poverty, lack, wars, and more. And while we can not ignore the fact that millions of African face, that is not the sum total of our existence. Africa is more than wars and more than poverty. The stories of young Africans and the growing businesses on the continent will help to reset the narrative that has been pushed on us. The world must see Africans as more than people who are asking for handouts, especially given the amount of money and resources that illegally leave the continent every year.
Africa is the future. We can see the geo-political tussle that is happening now. We must rise to the occasion and ensure that we put in place policies and initiatives that prepare our children for a globally competitive future. Africa must work for Africans. We must change perspectives and shift global dialogues when it comes to Africa. The continent has significant untapped potential and offers so many investment opportunities. By focusing on young, growing companies on the continent, we can show investors from around the world promising sectors and projects. This kind of exposure can bring in venture capitalists, impact investors and other funding sources, facilitating access to capital for African entrepreneurs and enabling their businesses to scale and thrive. There's also the potential to foster collaboration, promote sustainable development and inspire more Africans to pursue entrepreneurship. By amplifying the stories and successes of African startups, we can contribute to a more inclusive and prosperous African economy, as well as the global economy.
How can we encourage more people to join the writing community and dedicate their energy to telling stories about African tech and business?
I think it's imperative that we enable conversations about everything African. And writing does that. We need to celebrate writers more, and make it more mainstream. Big on the list for me is highlighting the success stories. We know Africa's problems and that has been the focus for many, many years. Let's switch attention to the solutions, those who are making things happen and changing the status quo. Then there's also education and awareness. We need people to know that there's something happening in Africa's tech and business landscape. Let's educate about the opportunities and innovations in these sectors.
There should also be some form of mentorship program. Let the old share experience with the young, let's get experienced writers and journalists to act as guides providing support and feedback for up-and-coming writers and journalists. This leads to us building the community and networking. Let's create a community across the continent for writers interested in African business and tech. Let's create links and connections across borders and form a collaboration of writers and journalists. We also need the media to be part of this, whether traditional or new.
The media should give space to stories, features and articles that focus on African tech and business. Let's highlight the successes and trends and ensure such stories get adequate coverage and mileage to reach wider audiences outside of the sectors. Let's also be honest enough to realize none of these work if there is no access to information and sources. Writers and journalists need to be able to get their hands on reliable information, data and sources related to African tech and business. We need to build relationships with entrepreneurs, industry experts, and organizations in these sectors who can provide insights, interviews, and access to relevant stories. It's all about building a supportive environment that encourages more people to join the writing community and dedicate their energy to telling impactful stories about African tech and business.