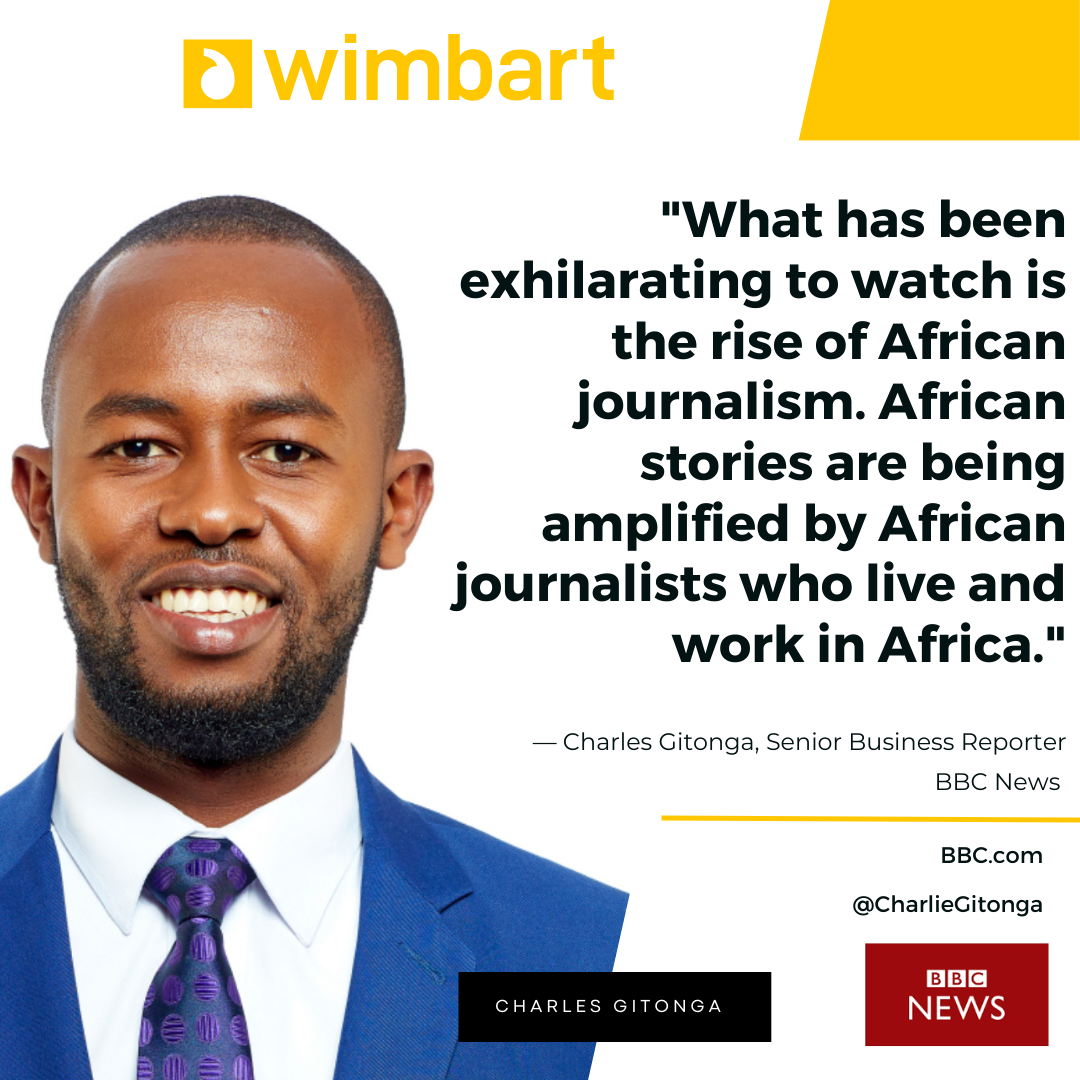 Charles Gitonga, BBC
We spoke with Charles Gitonga, a senior reporter for business in Africa for the BBC. Charles developed an interest for journalism whilst still a young child due to his regular exposure to radio. His pursuit of a career in broadcasting was driven by this love, which helped him realise his early ambition and get to where he is today.
What led you into journalism, and what would you be doing if you weren't a journalist?
If you are after a super summary, it was a childhood dream.
Growing up in eastern Kenya, the only form of media that I was exposed to was radio. This was the pre-internet age and for most of my childhood, we didn't own a television set. Over time, I became very curious about radio. I remember when I was in my final year of primary school, my English teacher turned to the class of about 20 students and asked, "What would you like to be when you grow up?" When my turn came, I shouted confidently, "Broadcaster!" A broadcaster today could mean many things, but in my world at that time, it meant being a radio presenter. Earlier, several teachers had praised my command of the English language during classroom reading exercises. When I got to high school, I was certain that I wanted to venture into journalism and make this childhood dream come true. After all, I had excelled in languages such as English and Kiswahili, which were crucial for this career path.
I undertook a journalism course for my undergraduate studies at the Daystar University in Kenya. So eager was I to learn that I signed up to be a radio presenter at the campus radio station during my first year. At the time, the station would only admit new staff during their second year of study. However, my passion convinced them otherwise and they gave me a chance. I recall that at some point, I was presenting four different radio programmes in a week! This is how my studies made sense to me.
In my final campus year, I got an opportunity to do an internship at CNBC Africa – a continental media organisation that covers financial and business news. I had never been keen on becoming a television news reporter, let alone financial news! But that was the first real opportunity that came knocking. So I took it in stride and dedicated the following months to learning how to tell business stories to a niche audience. Little did I know that I had just signed up for the only career that I have known for the last decade.
When you're researching stories, what compels you to work on sharing a particular story with your audience? Any hot trends we should look out for in the coming months?
All stories are about people. Whether they cover the financial, technology or agricultural sectors, there will always be someone somewhere who is affected by the story. That is my overall guiding principle. I get a tonne of calls and emails each week asking for coverage. If I cannot clearly see who is affected and how, that story is dead on arrival.
As journalists in the business world, we tend to be easily carried away by the jargon and the numbers. I am always cautious about that because frankly, it is the numbers that usually draw me towards a particular story and then everything else follows.
When it comes to trends, I always apply the same overarching principle. Mobile technology and fintech is perhaps one of the sectors that has grown exponentially over the last decade. When I covered the entry of Safaricom in Ethiopia in 2021, my obsession was on what this meant for the 120 million people that call the country home. And for most of them, having an alternative telecommunications provider after years of monopoly was everything.
It is refreshing to see the rise of homegrown African businesses creating employment opportunities for many and playing a crucial role in solving the unemployment crisis in Africa.
Why is African business so unique and what makes it so exciting to report on?
There's a lot to unpack here but I'll highlight the key ones.
Firstly, Africa has become home to some of the world's fastest-growing economies over the last decade. We have seen an avalanche of high capital investments in road, rail, port and air infrastructure that have enhanced intra-African trade. Similarly, we have seen the rise of financial technology and access to mobile telephony services. We have also seen African entrepreneurs receiving global recognition and funding due to their creativity and innovation. And as African economies grow, so do African business stories.
In 2015, I ran a prime-time weekly segment featuring local entrepreneurs, while working for a national Kenyan television network. Nearly a decade later, most of these entrepreneurs have grown their businesses exponentially – and every time I revisit them, there's always a new story to tell.
Secondly, and perhaps closely related, it is refreshing to see the rise of homegrown African businesses creating employment opportunities for many and playing a crucial role in solving the unemployment crisis in Africa. It demonstrates the resilience of the African spirit in devising solutions to its own problems.
Lastly, it has been very exciting to see African entrepreneurs take the lead on innovation and technology for some of the unique challenges that the continent faces. For example, savings, credit and payment systems are closer to people in many African countries today, thanks to mobile money technology. Seeing all these factors work together in tandem and transform livelihoods has been fascinating to see and report on.
It has been very exciting to see African entrepreneurs take the lead on innovation and technology for some of the unique challenges that the continent faces.
Which sectors or industries do you like to cover most and why?
I cover any story that makes business sense. One day I could be telling the story of a palm oil seller in the outskirts of Lagos, Nigeria and the next, I could be interviewing the minister of finance in Djibouti.
In the last five years, however, I have mostly covered economic stories. The global cost of living crisis has been a particularly important theme for me, given that it has contributed to foreign exchange shortages that continue to torment much of Africa.
Technology has been impossible to ignore. There has been increased access to mobile devices in a continent whose majority population consists of young people. The rise of the internet has seen the proliferation of social media platforms which have found a sizable following in Africa. Then there is the advent of cryptocurrencies.
Quite often, you will also find me covering stories on trade, entrepreneurship, and financial services.
Why is it important that people around the world get to hear about young, growing companies on the continent?
Storytelling is a crucial enabler for growth in any business. If you look at some of the biggest companies globally, their senior leadership has mastered the art of storytelling. It is how you get customers and investors to trust in the brand and ethos of a particular business. Fair, truthful and impartial journalism therefore plays a huge role in achieving this. It is important to tell the stories of the milestones, challenges, innovation and growth in order to give a fair representation of the continent.
What has been exhilarating to watch is the rise of African journalism. African stories are being amplified by African journalists who live and work in Africa. There are now a lot more of us at the forefront of global storytelling changing the narrative and offering a wider, deeper perspective of what the continent has to offer.
How can we encourage more people to join the writing community and dedicate their energy to telling stories about African tech and business?
I think this is already happening. With technology being so accessible, almost everyone is a 'walking newsroom'. Citizen journalism has taken root in the recent past, whereby breaking news is first shared on social media platforms. News is no longer a preserve of established media houses. As a result, media houses have had to adapt and change how they perceive news, collaborating with people who are closer to the story – their professional expertise notwithstanding.
Yet, there still exists an unending need to ensure that people sharing news on online platforms are telling these stories accurately. It should not be lost on us that we are living in an era of fake news and misinformation – which is particularly rife during elections in Africa and elsewhere.
However, with adequate public awareness and sensitisation on fake news and misinformation, there is a lot of potential to use these social media platforms for good. And African businesses stand to benefit significantly should that potential be realised. Ultimately, there is a good chance that the most effective story about a business will be told by a customer first and not necessarily a journalist.